« All Posts by this Blogger
Making Hanover Home in Four Easy Steps
With my college decision completed in May and a mere three months before move-in day, I couldn't wait to get done with high school. Of course, there were moments that would give me pause: my last high school track meet, for example, or seeing some of my best friends and favorite teachers for the last time (for a while, at least) at graduation. But by and large, I was itching to make it to Hanover as soon as possible – and get a taste for what college life was really like.
A month and a half in, my excitement for college is standing strong, but I feel silly for wanting to rush through my final weeks as a pre-college kid. I knew my life would change once I left home, but I couldn't even begin to imagine how. As I make incredible friendships and memories here, I can't help but reminisce on my friendships and memories from home, too.
If you ever get homesick like this – or think you might once your college years begin – I've made a list of a few activities that help me reacclimate. 
I'm a lifelong musician and music lover, so I always turn to my music library when I'm feeling excited, stressed, or nostalgic. I compiled some songs that remind me of home – whether it be Minneapolis artists or simply tunes that evoke high school and old friends. I had to include Prince, of course, but I also threw in Moses Sumney, Young Thug, and dvsn, some of my favorite artists.

Nothing beats actually seeing your friends and family. That's why I often FaceTime the people closest to me. I try to FaceTime my brother at least once every two weeks; it's a great time to get caught up with exciting events and rant about bad days/weeks. Although more time consuming, it beats texting by a long shot. 

Although not exactly in your power, care packages are one of the most effective lift-me-ups. Whether they contain your favorite foods, dorm decorations, or that one article of clothing you forgot to pack, the material satisfaction of opening a box with your name handwritten on it can't be beaten. It doesn't have to be just from parents, though – sending one to a close friend can be a great way to reconnect!

Unabashedly Minnesotan, I like to wear my state gear. Although throwing on a MN sweatshirt isn't the most radical form of self-care, it always makes me feel a little closer to home.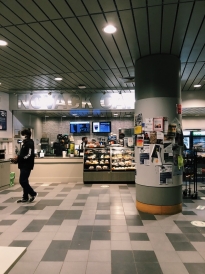 In a world where proper social distancing is so important, Novack Café has fulfilled a unique desire for current on-campus students; it's a place to study, hang out with friends, and grab a snack—all while staying COVID safe.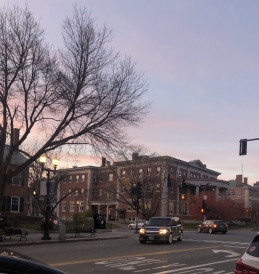 The last week of October was especially ~spooky~ as I was able to find more time than usual to enjoy my weekend with friends and the small-town-charm of Hanover.

While the student body at the College may be relatively small, students here recognize that their vote can hold a lot of weight in New Hampshire, a classic swing state.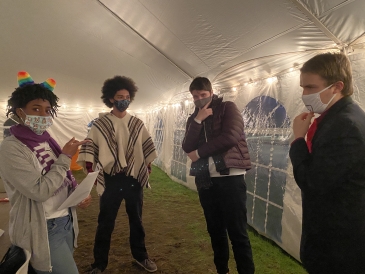 After walking around campus all day in eye-catching attire, we headed to a Murder Mystery night hosted by Phi Tau (a fraternity) in one of the tents scattered around campus.

On Friday, a few friends and I decided to take part in an event held by Collis After Dark, which organizes a lot of the student programming on-campus.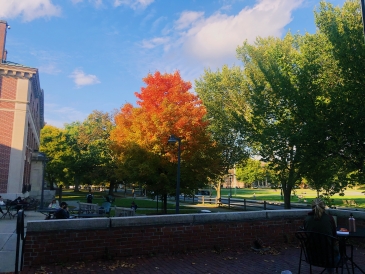 My personal visit to Dartmouth was a huge factor in my decision to apply, so in honor of Week 7, I hope this blog post can virtually illustrate some of what Dartmouth has to offer in seven images – worth 7,000 words!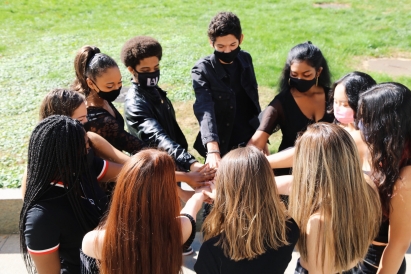 As a member of multiple performance groups on campus, I thought I'd give you a bit of background info on the opportunities here and discuss what we've been up to!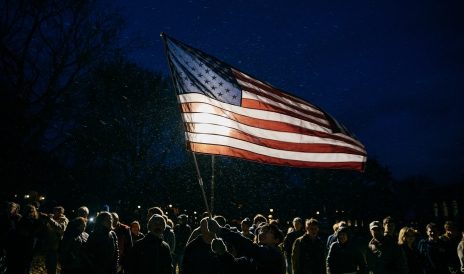 In honor of Veterans Day, I was able to interview student veteran Eugene Lovejoy '22 to hear about his experiences in the United States military and as a Dartmouth student. Read on to learn more!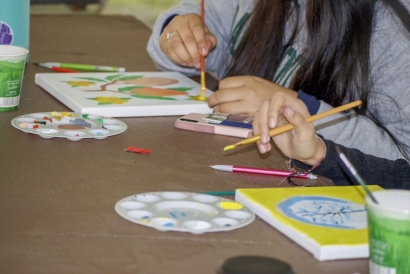 Each incoming student was assigned to one of the six houses: School House, South House, East Wheelock House, North Park House, Allen House, or the best house (West House).