History & Traditions
Dartmouth's root system weaves through many pivotal moments in the history of the United States. Founded in 1769, the College has shaped the education landscape and prepared generations of leaders to advance industries, societies, and cultures. Dartmouth's founder, Eleazar Wheelock, a Congregational minister from Connecticut, established the College "for the education and instruction of youth of the Indian tribes in this land... English Youth, and any others." Samson Occom, a Mohegan Indian and one of Wheelock's first students, was instrumental in raising the funds necessary to found the College.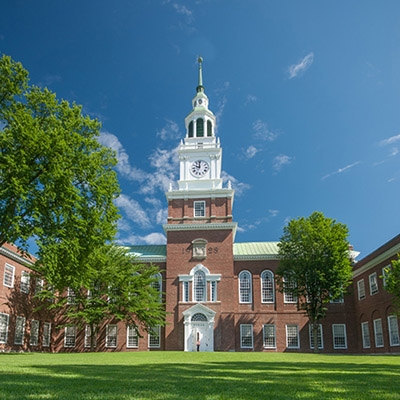 What a College Should Look Like
New Hampshire Governor John Wentworth provided the land on the banks of the Connecticut River that would become Dartmouth's picturesque 269-acre campus. The setting gives Dartmouth a profound sense of place that has become one of its hallmarks. Its profound natural beauty was not lost on President Dwight D. Eisenhower, who remarked, "This is what a college should look like," when he visited in 1953.
Dartmouth was the subject of a landmark U.S. Supreme Court case in 1819 (Dartmouth College v. Woodward) in which the College prevailed against the State of New Hampshire, which sought to amend Dartmouth's charter. The case is one of the most important and formative documents in United States constitutional history, paving the way for American private institutions to conduct their affairs in accordance with their charters without interference from the state. Politician, statesman, and Dartmouth alumnus Daniel Webster, Class of 1801, passionately argued for the original charter to be preserved. "It is … a small college," he said, "and yet there are those who love it."
Bringing Founding Principles into the Present
During its first 200 years, Dartmouth did little to actualize its founding commitment to Native students. In 1970, Dartmouth reaffirmed its founding mission and two years later established one of the first Native American programs in the country. Today, 200 Indigenous students—representing more than 70 different tribal nations & communities—attend the College. Dartmouth counts over 1,200 Native graduates among its alumni.
With a celebrated liberal arts curriculum and pioneering professional schools, Dartmouth has forged a singular identity, combining its deep commitment to outstanding undergraduate liberal arts and graduate education with distinguished research and scholarship. The College has been at the forefront of educational invention, continually identifying new methods of enhancing the impact of higher education such as the Rassias Method® for foreign language instruction. Now a worldwide phenomenon, the method was invented by Dartmouth Professor John Rassias in the 1960s.
Firsts and Foremosts
Dartmouth's groundbreaker DNA is also borne out in its professional schools: the Geisel School of Medicine, the nation's fourth-oldest medical school; Thayer School of Engineering, one of the nation's first professional schools of engineering; and the Tuck School of Business, the world's first graduate school of management. Dartmouth is also the first school in the world to offer a graduate degree in health care delivery science.
In 2017, Dartmouth topped the Ivy League in Nature's innovation index, awarded for the greatest number of scientific papers that lead to patents. And the College has been rated in the top 10 of all schools for undergraduate teaching by U.S. News & World Report for the entire lifetime of the rankings-including several years at #1.
Hallowed Traditions
When a school is imbued with such a profound sense of place and such a powerful sense of community, it stands to reason that after two and a half centuries, it will have built a number of beloved traditions. Here is just a sampling: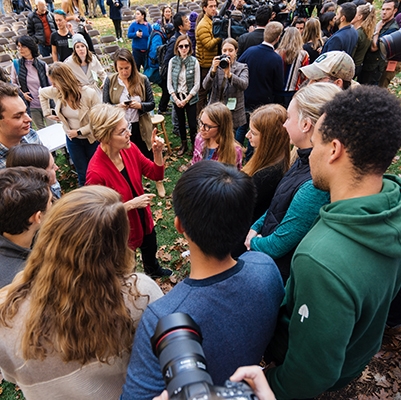 Presidential Debates
Dartmouth is a frequent stop on the campaign trail, giving students the chance to experience New Hampshire's first-in-the-nation presidential primary. For more than a quarter of a century, the College has hosted debates featuring key presidential candidates. This up-front-and-personal exposure to the election process has inspired many Dartmouth graduates to pursue prominent careers in government and journalism.  
Dartmouth Night and Homecoming
During Dartmouth Night and Homecoming, alumni return to join students in an iconic celebration of the glories of autumn. Together, they march in the colorful annual parade and celebrate in the glow of a dramatic bonfire on the Green-a tradition that dates back to 1888.
Winter Carnival
The annual Winter Carnival began more than 100 years ago as a way to showcase Dartmouth's celebrated winter athletes. Since 1924, 147 Dartmouth-affiliated athletes have competed in the winter Olympics-the most in the Ivy League. In the 2018 Winter Olympics, the College added a 10th silver medal to add to its 13 gold and six bronze medals. If Dartmouth were a country, its haul would place the College 21st in the all-time medal count, just behind Great Britain.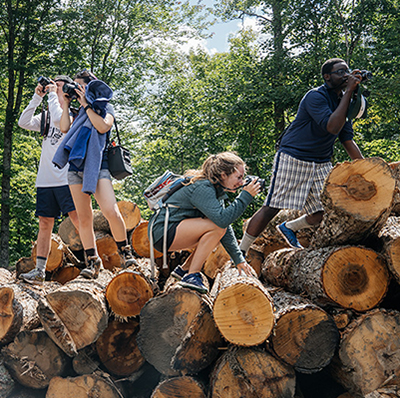 First-Year Trips
Dartmouth's outdoor orientation program for incoming students is led and organized by returning students. First-years get to know Dartmouth, launch lifelong friendships, and begin unifying as a class while exploring the region's remarkably beautiful natural environment. Students can opt for local excursions-the Appalachian Trail passes through downtown Hanover-or venture as far as Dartmouth's Second College Grant, a 27,000-acre wilderness 140 miles northeast of Hanover, which is rich in recreational and research opportunities. This wealth of possibilities is supported by one of the nation's finest outdoor infrastructures, including the newly renovated Moosilauke Lodge and its student crew, the Dartmouth Skiway, and Ledyard Canoe Club.
Dartmouth Powwow
For more than four decades, the Native community at Dartmouth has hosted the annual Dartmouth Powwow. Honoring Dartmouth's long-standing mission of educating Native students, the event draws hundreds of competitors and participants from across the country who gather on the Green to welcome the spring and celebrate Native cultures and history.