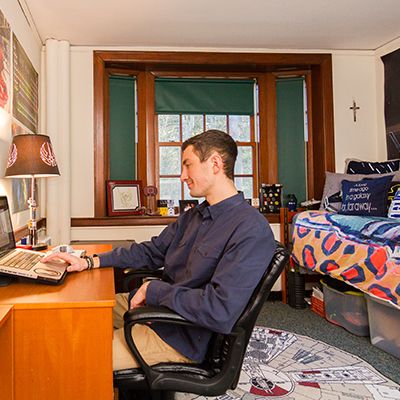 Whether in residence halls, living learning communities, affinity houses, or Greek organizations, nearly 90% of Dartmouth's students live on campus. Gorgeous architecture, included maintenance, and proximity to classes, libraries, food, and friends make on-campus housing a popular option even after the first year when it's no longer required.

Whether historic or newly constructed, residence halls foment the exchange of ideas and the formation of friendships. Proximity encourages chance encounters that, invigorated by common experience, develop into deep connections. This phenomenon is especially prevalent among first-years.
"My best friend lived on my first-year floor. We ran into each other in the hallway during orientation and have been friends ever since." (Rachel Rubin '20)
While students everywhere may be especially open to new friendships their first year, Dartmouth's campus configuration encourages bonding with those geographically close. First-year dorms, comprised of first-year students and Undergraduate Advisors (UGAs), allow first-years to engage in regular meetings and activities to connect with each other, acclimate to college life, and navigate their first few terms. Whether in the dorm's common room or the floor's mobile group chat, these official events are supplemented with (often humorous) informal guidance on everything from which classes to take to which dining option is best that day.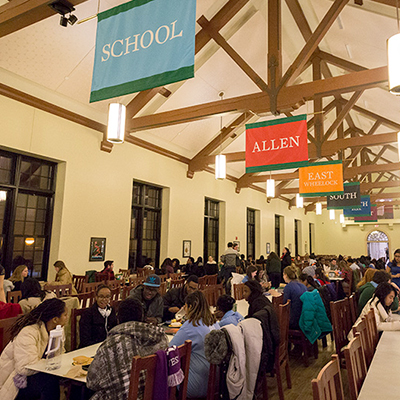 This sense of community isn't limited to First-Years. House communities provide talks, social events, gathering spaces, and structure to the Dartmouth lodging experience. Sorted before arrival (unfortunately without the hat), students live in their house's first-year dorms and then upperclassmen "clusters" for all four years. This continuity, furthered by house events like barbecues, apple-picking, intramural sports, Broadway shows, and skiing, fosters a home-within-a-home atmosphere that promotes intellectual engagement alongside the comfort of familiar faces. Students can also live outside their house community in Living Learning Communities (residence halls organized around a particular mission or subject), affinity houses (like La Casa, with Spanish-language focus; the SLC, with Sustainability focus; or the Native American House, for Native and other Dartmouth students), or LALACS, with focus on Latin American and Caribbean identity), or in fraternities or sororities. Thanks to the ten-week terms of Dartmouth's D-Plan, many students try numerous options during their time here!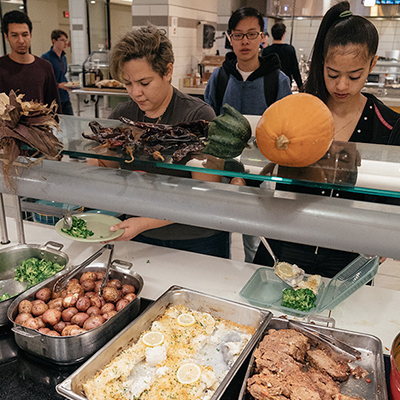 Dining at Dartmouth presents a similarly varied picture. With five on-campus options serving everything from stir-fry and smoothies to specialty burgers, there is something for everyone. Vegetarian options are plentiful and dessert is campus-renowned: one '16 said that, more than a year after graduation, she still dreamed about FoCo's chocolate chip cookies. An all-you-care-to-eat buffet-style establishment, FoCo (officially named Class of 1953 Commons) has an ever-changing variety of soups, salads, stir-fry, pizza; home-style, vegetarian, and kosher entrees; a weekly "World View" station and, of course, a fantastic array of desserts. Other options include The Hop, known for its grill and internationally-inspired salads); Collis, known for smoothies, stir-fry, pasta, salads, and various but ever-delicious soups and specials, and KAF, Dartmouth's own branch of King Arthur Flour, a local bakery known for its coffee, pastries, and sandwiches. Novack, conveniently stationed in Baker-Berry library, provides on-the-go meals and study snacks. Whether you want a quick bite on the way to class or a three-hour, four-course dinner debate with friends, Dartmouth's dining options deliver (deliciously and sustainably) the sustenance essential to success.