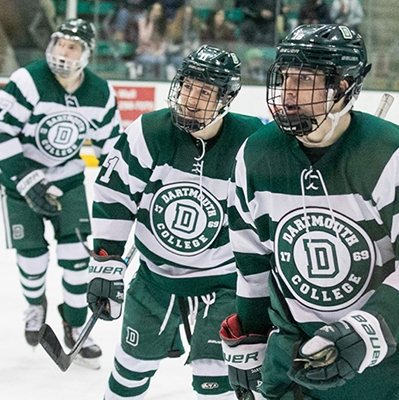 From the laid-back sports fan to the aspiring Olympic athlete, Dartmouth offers plenty of opportunities for sportspeople of any interest level and ability. With state-of-the-art facilities and the stunning outdoor venues of the Upper Valley, there's never a lack of new activities to explore. It's no wonder that 75% of the student body is involved in sports. With everything from fly-casting practice on the Green to downhill racing at the Skiway, here's the breakdown:
Varsity Sports
With 35 Division I varsity teams, the Dartmouth Big Green are known worldwide as a member of the prestigious Ivy League, where our athletes compete against a collection of the nation's oldest schools. The most demanding tier of Dartmouth athletics, our alumni include an immense number of Olympic athletes and numerous professional players across a range of sports. With free admission for all students to regular-season games, there's never a lack of cheering fans to pack the stands.  
Club Sports
Dartmouth's 33 club sports teams vary from nationally competitive to casual and recreational. From Water Polo to Tae Kwon Do, these student-run squads compete against other colleges across the region. Some clubs hold tryouts whereas others are open for sign-ups, all which depends on the competitiveness of the organization. Much less of a commitment than a varsity sport but far more than intramurals, club teams often have practices sporadically throughout the week and usually play games on weekends.
Intramural Sports
The most casual and beginner-friendly tier of Dartmouth's athletic hierarchy, intramural sports are a fun way to get active without making too much of a time commitment. Students organize teams and compete against each other in a multitude of sports, all of which have different skill-based brackets to make sure that the matches stay competitive. Also a fun and cheap way to try something new, Dartmouth's IM scene is super inclusive and is available to anybody who can gather up a couple friends.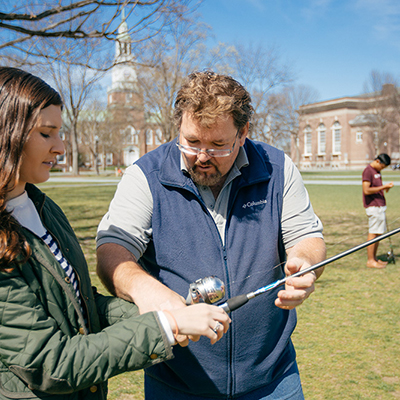 Physical Education
Physical Education courses offer students countless opportunities to get active for credit. From dance to martial arts and from yoga to skiing, Physical Education experiences are lead by undergraduate students and faculty alike on activities they're passionate about. Some are even Dartmouth Outing Club-sponsored programs, which involve weekend excursions to explore New Hampshire's scenic countryside. Unlike other courses, PE classes don't meet in normal blocks. Rather, they get together at different times during the week, usually with very lenient schedules. A great way to give something new a try, students need three PE credits to graduate, and with a wide range of activities to explore, there's truly something for everyone!
Athletic Facilities
Dartmouth boasts a wide array of beautiful facilities surrounding athletics and recreation. With over $94 million invested into our state-of-the-art venues in recent years, students are provided with the best resources possible to reach the top of their game. Some of these include:
The Zimmerman Fitness Center, with over 16,000 square feet of new workout equipment for student use
The Hanover Country Club, campus' very own golf course
Thompson Arena, the skating rink home to Dartmouth's on-ice sports
The Boss Tennis Center and Gordon Pavilion
The JDB Rock Climbing Gym
The Karl Michael and Spaulding Pools
The Friends of Dartmouth Rowing Boathouse
And much more!
Outdoor Programs Office
The Outdoor Programs Office (OPO) helps create opportunities for members of the Dartmouth community to explore and enjoy the amazing natural landscape of New England throughout their time at Dartmouth and beyond. Within OPO, The Dartmouth Outing Club is the oldest and largest collegiate outing club in the country. Anyone—member or not—may stay at their cabins, go on trips, rent gear, and take classes, and funding and grants are available.
The Upper Valley
Dartmouth is defined by more than just buildings; seated in the picturesque Upper Valley, we like to use the terrain to our advantage. With the Connecticut River nudging up along the western edge of campus, there's always an open spot to row, kayak, canoe, or even go for a swim. Also, just twenty minutes from campus lies the Dartmouth Skiway, two mountains complete with a lodge and shuttle that runs to campus during the winter months.