You are here
Fall

Hanover, New Hampshire

This was definitely my favorite class of fall term—the readings were heavy, but they all felt incredibly relevant to the coursework. For each class, we read both Jewish and Arab perspectives throughout history. Moreover, Professor Avishai has a vast network of connections with important members of Israeli government, and even figures who we read about in the history books (including former prime ministers!). Overall, that class was a lot of work but very effective in helping me understand the Israeli-Palestinian conflict.

Winter

Hanover, New Hampshire

Professor Smolin's lectures were always something for me to look forward to. In this intro class, a wide variety of subjects regarding the Arab world were covered. Topics such as culture, Islam, literature, poetry, politics, and history were covered from the pre-Islamic period to the more recent Arab Spring. The readings were fascinating, and the professor also incorporated a wide variety of video resources to accompany the readings. I loved this class!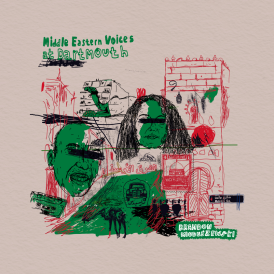 Middle Eastern Voices at Dartmouth
My freshman year research project "Middle Eastern Voices at Dartmouth" has released on Spotify and Apple Music! For those interested in research and creative projects at Dartmouth, I will share my process and experience.
Pages