You are here
Fall

Hanover

Taking this class was a random and unexpected decision that I am so happy I made. This class was about the intersection between human and primate evolution and our social behaviors. It really opened my eyes to how unique and beautifully diverse different societies are, and how this uniqueness influences our biology in interesting ways.

Winter

Hanover

Taught by Professor Doyle, this has been my favorite class at Dartmouth so far. It was a calculus integrated with economic applications of the concepts we learned. It was the first time this class was offered at Dartmouth, and Professor Doyle made sure we all had a thorough understanding of the material. The fact that we were also able to see the real-world applications of the calculus concepts also made the class uniquely interesting.

Spring

Hanover

I took this class to fulfill Dartmouth's first-year seminar requirement. In selecting a first-year seminar class, I sought out a department that I would not have taken a class in otherwise. It was an incredibly fulfilling experience and I learnt so much about Parisian Impressionist painters in the late 19th century like Monet, Manet, Degas, Morisot and Renoir. It also taught me about the political, social and economic conditions that typically inspire pivotal art movements.

Summer

Washington D.C.

This summer, I interned at the International Finance Corporation in DC, through the Rockefeller Center's First-Year Fellows program which gives first-year students the opportunity to engage in public policy early in their Dartmouth careers. I lived with about twenty other members of Dartmouth's Class of 2025 and got to experience life in a vibrant city while gaining professional work experience.

Fall

Accra, Ghana

I spent this term in Accra, Ghana for the African and African American Studies department's Foreign Study Program (FSP). I'm so glad I was able to take advantage of one of Dartmouth's study-abroad programs. During this FSP, I got to explore a new country and city while taking classes taught by the amazing professors at the University of Ghana.

Winter

Hanover

After being away from campus for six months, I decided to start working towards fulfilling my distributive requirements. To fulfill my ART distrib, I took a Russian film class with a friend. It was an amazing experience and a testament to the ways a liberal arts education encourages you to approach each class through an interdisciplinary lens. For my final essay in this class, I explored the ways that government and political culture affect the nature of the film industry in different countries.

Spring

Hanover

This class is one of the prerequisites for the international economics track's culminating experience. Dartmouth's economics major allows you to focus on a specific field that you're interested in, while also having the opportunity to take a couple of classes in other fields. Before taking this class, I had always been interested in international economics and this class definitely cemented my interests in the field.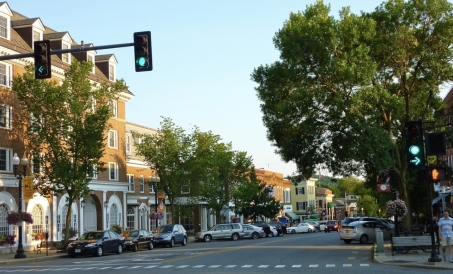 What Do Dartmouth Students Do For Fun?
As a prospective student touring the Dartmouth College campus, it is easy to wonder how you can have a fun and entertaining college experience in a small town like Hanover.
Pages