You are here
Fall

Hanover, NH

Taught by Gordon Henry, an Anishinaabe poet and author, this class taught me to explore Indigenous storytelling within digital contexts. I took this class with only seven other classmates, allowing us to really engage with films, comic books, and television shows in Indigenous languages or produced by Indigenous artists.

Winter

Hanover, NH

Taught by Timothy Pulju, this class taught me how to identify and understand how languages evolve over time and why. I analyzed and reconstructed fictional languages of imaginary nations in order to understand the link between language and culture, and ended up having such an appreciation for the complexity and beauty of language's place in history!

Spring

Myrtle Beach, SC

Taught by Lindsay Whaley, this class let me discover a newfound love for ancient apocalyptic literature. We analyzed ancient texts and compared them to modern apocalypses, looking at the zombie apocalypse phenomenon and other apocalypses in pop culture and comparing them to the ancient tradition of writing apocalypses. Additionally, I learned the Greek alphabet and now I can even stumble through ancient Greek passages.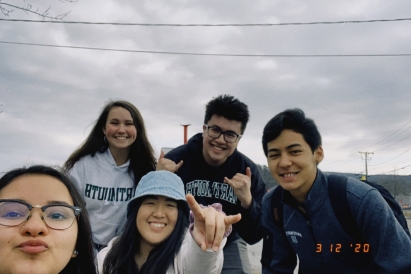 Leaving with (West) Lebanon: Loved You, 20W!
Even if I won't see my fellows NADs (our powerful Indigenous community), Questies (Questbridge ʻ23s represent!), and First-Generation Low-Income (FGLI) folks for a little while, you should all know that you make Dartmouth a wonderful place to be. 
Pages