« All Posts by this Blogger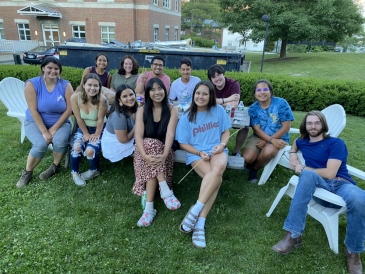 Aloha, Sophomore Summer!
In the summer after my junior year, my mom, myself, and a friend and their mom decided to go on a college touring road trip. As the final destination for this road trip, we headed up to the little town of Hanover, NH to see Dartmouth. It was a long trip, well out of the way, and yet I had to see the place I'd then seen just in really aesthetic YouTube videos and student vlogs. Despite feeling like yesterday, that visit took place in the summer of 2018, almost three complete years ago, and yet pulling up to Dartmouth in the backseat of my roommate's car as we arrive on campus as near-juniors, that same excitement was nothing short of surreal. And to be honest, would it be anything short of wrong for us to not feel that way during the legendary time that is sophomore summer?
As per Dartmouth tradition, sophomores at Dartmouth are required to spend summer term during their second year on campus. After your first year -- which is normally spent entirely on campus -- Dartmouth students will often diverge in their Dartmouth plans (what we call the D-Plan!). Some students will take on a fall internship during their sophomore fall, or spend winter on a study abroad in New Zealand, or however they'd like to organize their terms. Because of that, sophomore summer usually marks the first time that your entire class converges in one shared space in a little while.
So this term (regardless of what the 22s might say) is first and foremost a way for the class of 2023 to get back together! I've accordingly spent the past few days seeing so many faces that I've either not seen since I first left campus my freshman winter or that I've only seen through the Zoom screen, which has made this term already such a great source of happiness in that reunions are awesome and the weather couldn't be more different than an Upper Valley winter. Summer at Dartmouth is what made me fall in love with the campus the first time, and it is beyond poetically fitting that the midpoint of my college career is happening at the very same time as its earliest beginning. 
Between classes, my friends and I get together on the Green to play spike ball, or throw a volleyball around, or simply hide in the shade from an overly excited sun. Because of an overwhelmingly vaccinated student body, my friends and I were actually able to get together for a barbecue at the Native American House (NAH) where I was able to see so many of my friends from within the Native community. We were able to eat the first homecooked meal I've had on campus since my freshman winter. The featured image for this post is not a candid, but I can tell you that the sheer serotonin levels evident in the picture are off the charts. If this term shapes up to be anything like the vibes at this moment, I couldn't be more excited to share the rest of my summer term shenanigans with you all. Aloha ā hui hou -- goodbye until we meet again!