« All Posts by this Blogger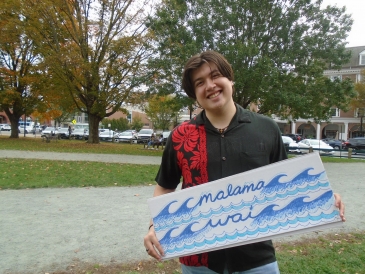 We Are Still Here - Indigenous Peoples' Month 2021!
Aloha mai kākou a pau loa! Aloha lā kanaka ʻōiwi! 
Hello everyone! Happy Indigenous Peoples' Month! This October 2021, the Native organizations at Dartmouth College are spearheading the celebrations for Indigenous Peoples' Month (IPM). In that spirit, I am happy to say that by the time of my writing this post, our celebrations are well underway as we take the steps necessary to celebrate Indigeneity in all of its shapes and forms. Thus far, this has included honoring the Indigenous peoples on whose land Dartmouth sits, the Abenaki people, celebrating our heritages as Indigenous students at Dartmouth through workshops and gatherings, and working towards a greater awareness of Native people today across all of campus. It is one of my favorite parts of Dartmouth's fall term, and I'm happy to tell you a little bit about how we celebrate this beautiful period over here at Dartmouth.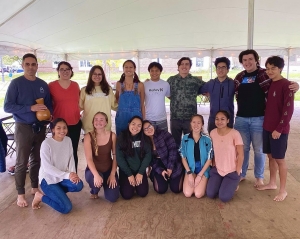 One of the first events I had the pleasure of attending was hosted by both Natives at Dartmouth (NAD) and Hōkūpaʻa, our Native Hawaiian and Indigenous Pasifika student organization. Professor Kekoa Harman (Hawaiʻi) came to campus to teach us all a little about hula, a traditional dance form indigenous to the islands of Hawaiʻi. During this workshop, we were able to learn from a master at work well-versed in the Hawaiian language and deeply knowledgeable about our chosen hula, accompanied by a traditional ʻoli (chant) called Ula No Weo. Such an experience was priceless to us that participated, and we were so grateful to have learned such an ancient dance, chant, and its history and relevance to Native Hawaiians both past and present.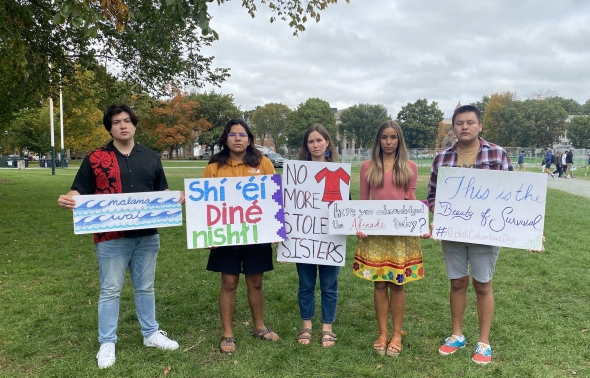 Additionally, my friends and I, along with many other Native students and allies of the Native community, gathered on the Green to protest in honor of Indigenous people. Led by NAD's Co-Presidents, we were happy to represent our peoples on Dartmouth's campus even though for many of us the Upper Valley is many thousands of miles from our ancestral homelands. Events like our protest on the Green are a big part of IPM. Through assembly and protest, we center Indigenous peoples and the problems that face our communities today. As Dartmouth students, when we engage in this type of activism as a unified student body, we motivate critical discussions to be held in our classrooms today, but perhaps even after we graduate.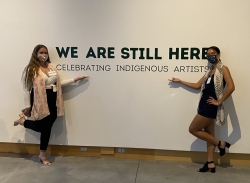 As just another episode in the developing story of my second IPM on campus, I had the pleasure of attending the reception of a new exhibit in the Black Family Visual Arts Center (BVAC) designed, curated, and presented by Indigenous students at Dartmouth. The exhibit, We Are Still Here: Celebrating Indigenous Artists, showed off a lot of beautiful art by my fellow Native students, with a lot of Native Hawaiian representation especially. It felt incredible to have the privilege to witness such beautiful art be displayed on campus, and to also attend such a well-attended reception and celebrate such an accomplishment with my friends!
All in all, Indigenous Peoples' Month is shaping up to be a time of healing, of celebration, and of reflection. This fall term is the first time my class (the 23s, aka the juniors, aka the best) has been able to meet the 24s and 25s, in addition, to see the seniors (22s) again after such a long while. With all of us on campus, IPM has given us in the Native community a chance to connect with so many of our peers that till now we've only seen in Zoom screens. Not only that, but we can now celebrate alongside them in honoring our cultures -- it's a truly beautiful thing.
Wishing you all a very happy Indigenous People's Month, me ke aloha. Until next time!