Female Empowerment: A Community Effort
One night, before we went to bed, my roommate Steph and I were contemplating how to become more involved in gender equity on campus. We're both in the Gender Equity LLC, but aside from LLC discussions neither of us were really active on the issue at the time. We thought about hosting a big showcase about female empowerment, but we pushed the idea aside -- a showcase was a little "crazy" and "far-fetched" to pull off with only a month left of the term.
Serendipitously, in Music & Social Justice (a class we decided to take together this term) the next day, Professor Cheng announced that we needed to complete a final project where we used music to enact social change in the community. The project gave us the foundation to turn that far-fetched idea into a reality. Along with two other members of our class -- Arij Elfaki and Sirajum Mundhi, we started planning a female empowerment showcase on campus to raise money for the New Hampshire Women's Foundation.
Countless hours of planning, communicating, and budgeting later, our last performing group -- The Dartmouth Sings -- took a final bow on the stage.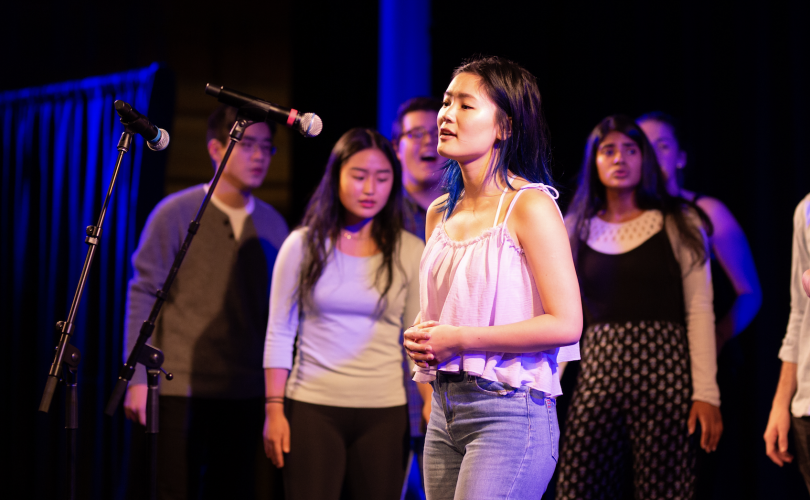 I felt empowered.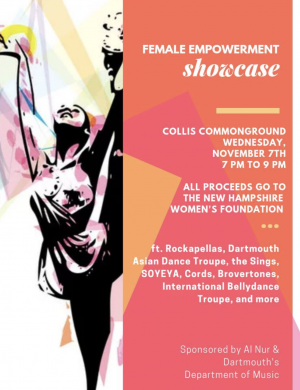 While that statement may be of no suprise to you, I was suprised to feel that way. The cynic in me has always recognized that music and dance are powerful tools, but I'd never personally been impacted on such a deep level by a performance.
I was surrounded by people who were genuinely passionate female empowerment. While I know that students here are generally pretty informed and considerate about imbalances regarding race, sexuality, etc., female empowerment can often get overshadowed in those discussions. Our event's student performerance groups -- the Rockapellas, Dartmouth Asian Dance Troupe, the Sings, SOYEYA, Brovertones, and the International Bellydance Troupe -- volunteered their own time to support a cause simply because we asked. Of course, my three co-hosts were super dedicated as well. And, obviously, the Dartmouth community that devoted two hours of their Wednesday to support a cause. Regardless of anything else, I felt like I'd made a tangible impact on the school.
Bonus: we raised over $500 for the New Hampshire Women's Foundation!