« All Posts by this Blogger
A Student's Perspective on Voting During a Pandemic
Because Dartmouth is located in the 'swing state' of New Hampshire, it's very likely that a presidential candidate (or two) will visit the area in an election year. (A swing state is defined as a state where the outcome of the presidential race is usually very close, so it is important for candidates to target voters in swing states in order to win the most electoral votes, and as a result the presidency.) This year, obviously, there won't be large rallies in support of political candidates on or around campus. But that doesn't mean this election is any less important, and it's nice to see all that campus organizations, the town of Hanover, and the Student Assembly have been doing to encourage students living in the Upper Valley to vote. So, for this blog post I think I'll reflect on what it means to be a college student during an election season and discuss why I think students have a unique responsibility to participate in the election process and have their voices heard.
In high school, I took your typical set of American history and civics classes. Don't get me wrong, I enjoyed learning about the history of political parties and the three branches of government. But to be quite honest, reading from a textbook is nowhere near as exciting as directly participating in an election as a college student. Dartmouth's Student Assembly has already run several voter registration drives, and I had the opportunity to vote early in my first presidential election ever at town hall just last week. That's a moment I definitely won't forget! No matter what your political beliefs are, Dartmouth's student body and faculty are strong believers in civic engagement, and that is something that I really appreciate! (As an aside: although I wasn't here earlier in the year, several Democratic primary candidates from Bernie Sanders to Elizabeth Warren came to campus in January and February to campaign. Pretty cool for a college that isn't in a major city!)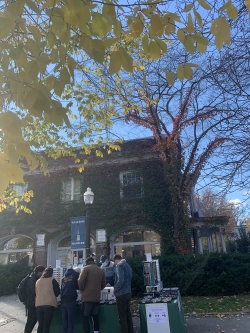 Something I hinted at in the title of this blog post is the fact that voting this year won't look the same as it did in previous years for millions of Americans. The pandemic has placed severe limitations on the ability of people to canvas for a political campaign or to show up on Election Day at a crowded polling place. But Dartmouth students are clearly not willing to not vote at all, and it's great to see that hundreds of students have already registered to vote and requested an absentee ballot. And, while international students and students living off campus may not be able to participate in the New Hampshire election process, it's worth mentioning that publications like
The Dartmouth 
and the
Dartmouth Political Times
 do a great job of making sense of political and election developments for the wider Dartmouth community - and are staffed by students who fall into both of the aforementioned categories. You should definitely check them out!
One of the reasons why I chose to study at Dartmouth was its long history of student involvement in political happenings both locally and nationally. (I bet you didn't know both John F. Kennedy and Martin Luther King Jr. addressed students at the College in the 1960s). And even if it isn't possible for students to go door-to-door encourage the local residents of Hanover to vote or to host rallies for local and statewide candidates, it's still great to know that the Dartmouth community is still able to engage others in the electoral process. 
I'll be sure to write more about the November election in the weeks to come. This has been such a turbulent year, and it would be a shame if anyone who cares about improving society didn't have their voice heard on Election Day. After all, elections are the most meaningful way in which citizens of a democratic country can express their opinions.
So to all those reading this right now who are based in the United States: it's not too late to get involved! Volunteer virtually for a candidate of your choosing. And even if you yourself are not able to vote in this election, make sure you family members and neighbors do. As for myself, I'm looking forward to seeing how else I'll be able to get involved with political events as a Dartmouth students in the years to come!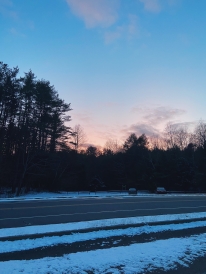 No freshman year is perfect, and I'm reflecting on a few learned lessons that I wish I knew before attending Dartmouth.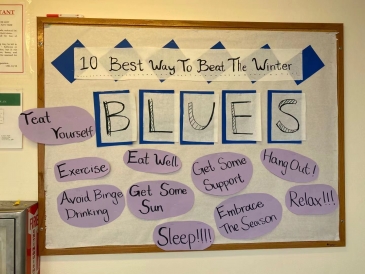 I was attracted by the opportunity to engage with first-year residents and shape their Dartmouth experiences, in addition to working with other UGAs and staff who shared my interest in helping others.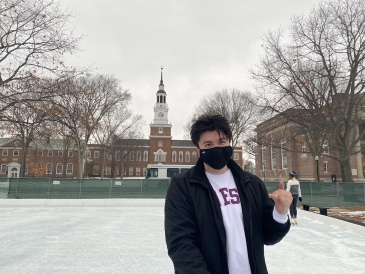 After almost a year off-campus, I came back to campus committed to the winter experience and I am simply loving it.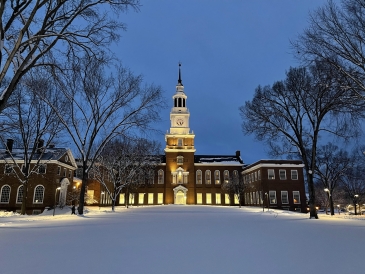 We so very wish you could step onto Dartmouth's campus yourself to witness the beauty of our winters live, but COVID-19 has made visiting campuses extremely difficult. I would love to share some of my favorite photos from this past snowy week!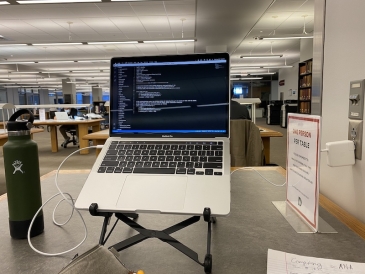 With lots of things (understandably) still closed on campus, it's nice to know that study spaces are beginning to open up again in a safe and responsible way.

From classes to extracurriculars to book club, there are endless communities to join at Dartmouth!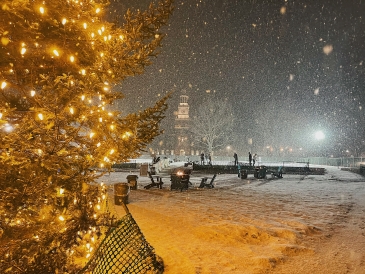 Have you ever wondered what a Dartmouth freshman's course of study may look like? The beauty of the D-Plan is everyone can customize their own schedules, so this term I'm taking International Politics, Global Health & Society, and Expository Writing.

This winter is my first term really focusing on classes in the government and economics departments, so I thought I'd walk you all through my class schedule and experiences so far!

Take a look at a few activities I do during Winter term as an on-campus student!