« All Posts by this Blogger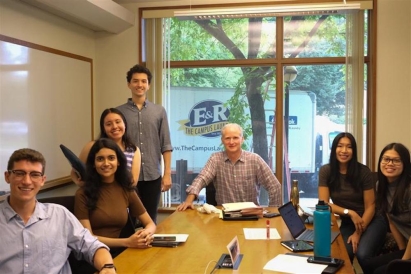 Paganucci Fellows at the Hood
I have previously written about the Hood Museum in a Pines blog from my freshman year. Since then, I have been to the Hood several times. For example, I studied indigenous art at the Hood in my Ancient Native Americans class (NAS 11) and Japanese prints in my Sacred Architecture class (ASCL 62.10). My latest trip to the Hood Museum was for a business fellowship I'm participating in called the Paganucci Fellows program. The program is centered around delivering recommendations to combat misinformation surrounding climate change. Now you may be wondering, what does business have to do with art? More than you would expect!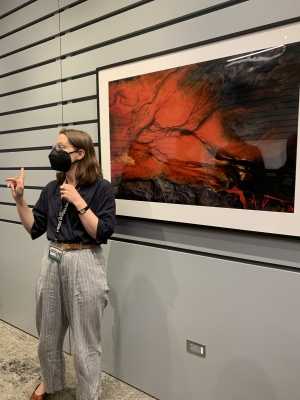 Last week, the Paganucci team headed to the Hood Museum for a hands-on session with two curators. We kicked off the session by describing and analyzing a painting. The team hypothesized that the photograph depicted an erupting volcano. After our brainstorming session, the curator told us that we were actually looking at arsenic being dumped into a river. At that moment, the painting looked surreal—we couldn't imagine this happening in the United States. We capped off the first part of the section by drawing similarities between analyzing an art exhibit and conducting a consulting project. In both cases, we were working in a team to draw insights and review findings while reacting and reflecting on the next steps.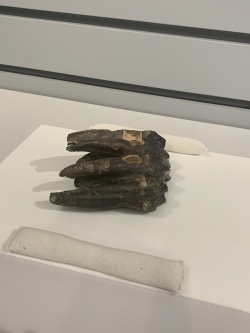 In the second part of the Hood session, the fellows broke off into pairs of two. The curators asked us to create a myth about an object in ten minutes. My partner and I crafted a story about our designated object, a dinosaur tooth donated by a Dartmouth alum. We argued that the rounded tops of the object were gums and the sharp, hollow edges were teeth showing signs of wear. We finally learned at the end of the session that our object was a mastodon tooth—pretty close if I say so myself! The exercise ultimately taught us about how easy it is to confidently spread misinformation and put us in a new mindset for approaching the consulting project. As a side note, the curators also showed us another really cool yet scary example of misinformation. The Hood has sculptures of petrified monkeys attached to fish bodies that were sold as "mermaids" to customers at circuses.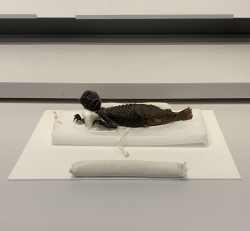 Through this blog, I show you all a small snapshot of the interdisciplinary learning that happens during the Paganucci Fellows program. Since visiting the Hood, the fellows have been in a host of team meetings and bonding events. We also just wrapped up a mid-point check-in and presented a roadmap to our client, and I can't wait to show you guys our final product!