You are here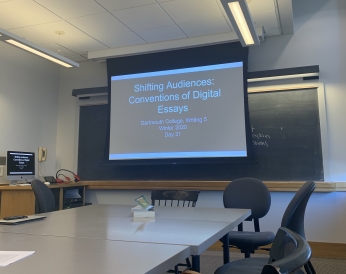 WRIT 5: Rhetoric and Disability
Dartmouth's liberal arts curriculum requires first year students to take Writing 2-3 or Writing 5. This term, I took Writing 5: Rhetoric and Disability with Professor Annika Konrad.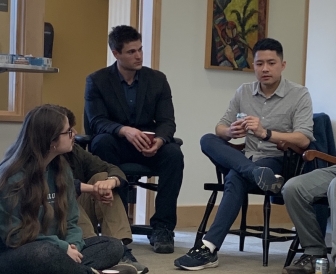 It's Tea Time
This week, I attended a talk led by Associate Professor of Music William Cheng, who researches history, media, ethics, disability, race, and video games.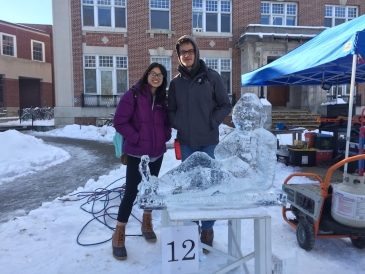 Is It Winter Carnival Yet(i)?
Over the past few days, the campus had been buzzing about Winter Carnival. I even watched a Loch Ness Snow Monster come to life. You know, typical Dartmouth for you.
Perks of the Humanities LLC
Looking back at my housing selection process, I realized there is very little information available about the LLCs. I wrote this blog post to tell you five reasons why I love the Humanities LLC.
One of the biggest misconceptions about the LLCs is that residents must take extra classes and participate in structured discussions. There are no required courses or discussions, but my floor does have many residents that are passionate about music, writing, philosophy, theatre, and dance. One of my floor's shared interests is watching shows at the HOP, the cultural hub of campus. A large part of the Humanities LLC funding goes towards purchasing free HOP tickets. I have attended Telluride at Dartmouth, where I watched movies such as Ford v Ferrari and The Assistant months before they were released to the public. My roommate has attended the Film & Media Alumni Fest, where she participated in a weekend of movies and networking events led by Dartmouth alums. 

 

 


 

The LLC community is one of the quietest dorms on campus, so I often study in my dorm. The accompanying photo shows my half of the room, which includes a closet, desk, chair, dresser, and bed—which were all supplied by Dartmouth. The other half of the room (which is not pictured) is my roommate's room, which is separated by a wall and a door. I cannot say that all dorms at Dartmouth or in other LLCs look like mine, but my room is a source of comfort and one of my favorite spots on campus. 

 

 

During the beginning and end of the term as well as during midterms and finals, the LLC community will order food from local restaurants. Students come swarming for free Chinese food from Han Fusion and Thai food from Tuk Tuk. We also have "Humani-teas," where we drink tea, eat snacks, and chat with a Dartmouth professor.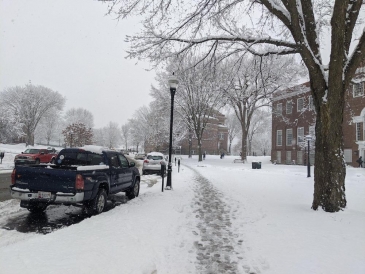 Spend a Day With Diana D.
This term, I stacked my schedule, so all my classes meet on Monday, Wednesday, and Friday. In this blog post, I will take you through a typical day of classes for me at Dartmouth.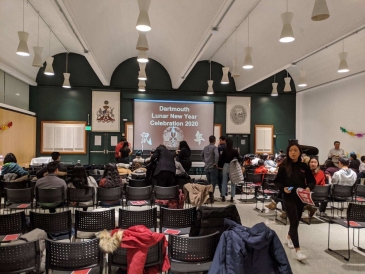 S(no)w Problem!
Yes, my friends, it was time for the infamous Dartmouth snowball fight, where the entire college is summoned to the Green at midnight to have a massive snowball fight.
I'm Ready To Go Back
When I was in high school, I loved having days off. I was the kid who would avidly check The Snow Day Calculator and count down the days until Christmas break.
No. 1

Spending time with friends and family

I was the only one from my high school to go to Dartmouth. Even though I was afraid that I would fade with my former friends, I kept in contact through FaceTime sessions and group chats. One of the best parts of coming home was getting to see my friends and hear about their college experiences. I was also glad to see my family for the first time since September, especially since they effectively spoiled me for the first week I was home. 

No. 2

Working at the YMCA and as a bi-weekly blogger

I had worked as a swim instructor and lifeguard at the Edison YMCA since sophomore year of high school. Before I left for school, I promised my co-workers and boss that I would come back to visit during break. For the past several weeks, I have spent my Fridays and Saturdays playing with my former students, giving swim evaluations, and telling everyone about Dartmouth. In addition, I have continued to chronicle my adventures by talking to you guys here, on my blog!

 

No. 3

Improving my Mandarin with Duolingo

One of my friends challenged me to learn Russian with my newfound free time. After downloading the Duolingo app, I realized that I am horrible at Russian; however, I must admit that I am highly addicted to Chinese Duolingo. (I am proud to report that I am ranked first in the Diamond League.) I even started preparing for next semester's classes by buying and skimming through my textbooks.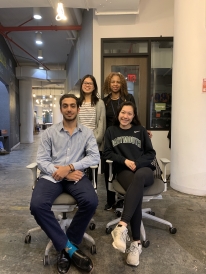 My Winter Break Externship
During finals week, I reached out to Colette Ellis '84, a life coach who aims to improve mental health in businesses and schools. She offered me a three-week externship at her company, Start Within Consulting LLC, in New York City.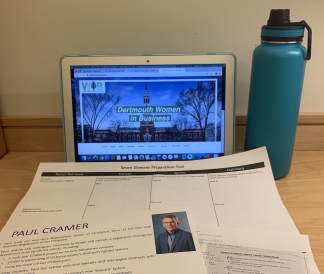 Business and Liberal Arts?
There is a common misconception that students cannot pursue business interests at a liberal arts school. Dartmouth actually provides a wealth of resources for students who want to pursue finance, consulting, and marketing post-graduation.
Pages