You are here
Fall

Hanover, NH - On Campus

I ended up taking this class for two reasons. First, I needed to fulfill my CI requirement; second, my friend was also taking it. Regardless, it ended up being my favorite class fall term. Professor Washburn is an engaging, spontaneous professor and we studied everything from memes to The Tale of Genji. By the end of the term, I found myself to be a more confident and humbled writer.

Winter

Hanover, NH - On Campus

This was my second time taking a 9 am class with Chen Laoshi. She is understanding, funny, and always eager to help. Even though this was a fast-paced class with daily quizzes, weekly tests, and new vocabulary sets every other day, I became extremely close with my classmates and more excited about learning the language. We ended the term over a feast of dumplings Laoshi prepared!

Spring

Edison, NJ - Remote Learning

Because this term was online, I used my extra time to study a subject that has always fascinated me. Professor Ayubi was incredibly accommodating by allowing us to complete work at our own pace. The most memorable parts of the class were examining anti-Muslim materials during a virtual tour to Rauner Library and exploring Muslim punk rock through the movie Taqwacores.

Summer

Edison, NJ - Remote Internship

My summer plans were derailed due to the pandemic, but Mr. Forbes, a Dartmouth alum, graciously allowed me to intern at his consulting firm. Over the course of two months, I became a master at navigating Microsoft Visio and writing grant narratives. I also lifeguarded the 5am shift (pain) at my local community pool.

Fall

Edison, NJ - Remote Learning

Students at Dartmouth say ENGS 12 will change your life, and I'm one to agree. Professor Robbie helped me rethink and redefine my approach to creativity and radical collaboration. After the class, I became involved in the design community, participating in the Designation, 3 Day Start Up, and Tuck's entrepreneurship program, TuckLAB. I'm even a TA for the class now—oh, how the tables have turned!

Winter

Edison, NJ - Remote Internship

In hopes of studying abroad, I declared a five-year d-plan. I'm still a '23 at heart, but I'll be graduating with the '24's. I ended up working at my local newspaper, TAPinto News, and continuing my linguistics research with Professor Donahue.

Spring

Edison, NJ - Remote Internship

With the help of the Magnuson Center, I landed an internship at Q30 Innovations, a medical device company. As a law development intern for Mr. Greene, a Dartmouth alum, I compiled a 20-page patent portfolio and provided recommendations for FDA clearance. I also took part in two Rocky programs, RGLP and MLDP.

Summer

Hanover, NH - On Campus

Professor Dorsey is by far my favorite Dartmouth professor. He hosted in-person office hours every Friday, where we talked about anything from Japanese healthcare to craft beer to our personal lives. The class was an absolute blast, in which we dissected comics and listened to Japanese folklore. Class highlights included a field trip to a nearby Japanese Zen garden and a zoom call with Japanese folklorist Nakagawa Goro.
I started off easy with Ling Ling dumplings. I boiled them in a pot for ten minutes, drained the water, and then fried them in oil for two minutes on each side. Overall, I was pretty pleased. We got that nice browning, a bit of crunch, and best of all, it wasn't raw. I helped myself to a side of blueberries and a cup of cranberry juice. 

Today, I warmed up frozen samosas (filled with chickpeas, potatoes, and peas) in the oven. Chopping up the onion was a painful experience. It certainly wasn't a fine dice, but I persevered despite tearing up. My mother ended up mixing the onions with the chicken (pictured at the top). 

This salad was by far my proudest achievement. As an avid salad eater, I ate a salad at least once a day at Dartmouth; I highly recommend the Hop's Kale Chicken Caesar Salad. For today's salad, I chopped up a head of lettuce, tossed in a handful of cherry tomatoes, and attempted to julienne a carrot. I also gathered the croutons, dressing, parmesan cheese, and extra carrots on the side.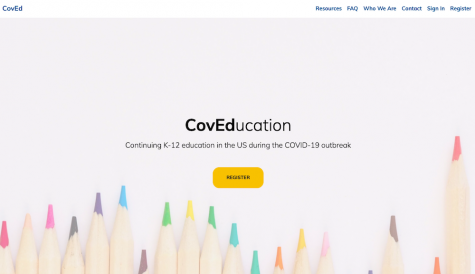 How Can I Help?
It's easy to feel powerless during quarantine, trapped in your house with nothing to do. I hope to play a small role in making the pandemic more manageable as a CovEducation volunteer. 
My 20S Schedule
Even though this term isn't what I imagined, virtual schooling has made me realize how much I miss Dartmouth.
No. 1

CHIN 23: Intermediate Modern Chinese 

I start my weekdays with Chinese class from 9:05-9:55 AM. Professor Li, a visiting scholar from Beijing Normal University, teaches us vocabulary sets and grammar, but our readings are more complex than last term's. We have read about Amy Chua's book Battle Hymn of the Tiger Mother, China's one-child policy, and environmental laws. Professor Li also challenges us to read news reports and watch interviews (such as in the picture above) to better prepare us for our study abroad program in Beijing.

No. 2

ASCL 10.01: Introduction to Chinese Culture

My Introduction to Chinese Culture course is taught by Professor Levi Gibbs and Miya Xie. The class is asynchronous, which means I listen to pre-recorded lectures at my own pace. In addition to the hour lecture, there are about 150 pages of reading and 3 discussion posts each week. As someone who has exclusively studied the Chinese language, I recently realized that I love learning about Chinese religion, art, music, and dynasties. This week, we learned about the Ghost Festival, a holiday wherein people bring out tables to the streets and then burn foods and paper artifacts to feed wandering ghosts. I am definitely interested in taking more courses in the Asian Societies Cultures Languages Department, especially calligraphy!

No. 3

PSYC 7.02: Brain Evolution

I am not a STEM gal, so I immediately jumped at the chance to fulfill my science distribution with Professor Granger's First Year Seminar on Brain Evolution. We meet twice a week on Tuesdays and Thursdays from 2:25-4:15 PM. The class revolves around Striedter's textbook Principles of Brain Evolution, so each student is responsible for teaching the class half a chapter. Professor Granger steps in to clarify difficult concepts or to review writing strategies. This term, we will write four essays, which will undergo a rigorous revision process. I just completed my first essay about bilingualism, and I am excited to explore the effectiveness of antidepressants.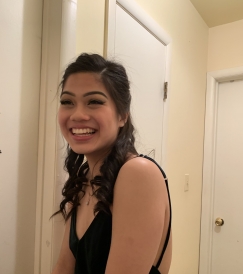 Why Dartmouth, Take Three
I looked back on my "Why Dartmouth" essays to relive why I (and hopefully you) fell in love with my school.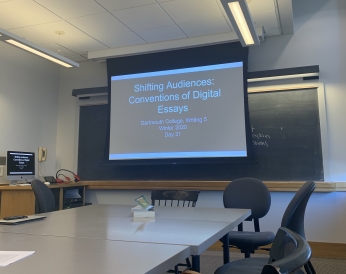 WRIT 5: Rhetoric and Disability
Dartmouth's liberal arts curriculum requires first year students to take Writing 2-3 or Writing 5. This term, I took Writing 5: Rhetoric and Disability with Professor Annika Konrad.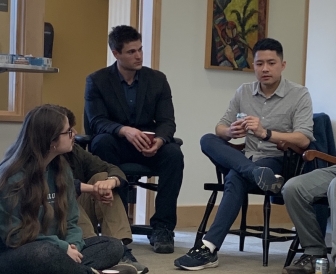 It's Tea Time
This week, I attended a talk led by Associate Professor of Music William Cheng, who researches history, media, ethics, disability, race, and video games.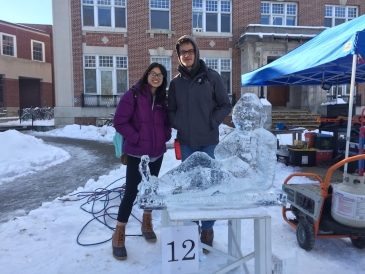 Is It Winter Carnival Yet(i)?
Over the past few days, the campus had been buzzing about Winter Carnival. I even watched a Loch Ness Snow Monster come to life. You know, typical Dartmouth for you.
Perks of the Humanities LLC
Looking back at my housing selection process, I realized there is very little information available about the LLCs. I wrote this blog post to tell you five reasons why I love the Humanities LLC.
One of the biggest misconceptions about the LLCs is that residents must take extra classes and participate in structured discussions. There are no required courses or discussions, but my floor does have many residents that are passionate about music, writing, philosophy, theatre, and dance. One of my floor's shared interests is watching shows at the HOP, the cultural hub of campus. A large part of the Humanities LLC funding goes towards purchasing free HOP tickets. I have attended Telluride at Dartmouth, where I watched movies such as Ford v Ferrari and The Assistant months before they were released to the public. My roommate has attended the Film & Media Alumni Fest, where she participated in a weekend of movies and networking events led by Dartmouth alums. 

 

 


 

The LLC community is one of the quietest dorms on campus, so I often study in my dorm. The accompanying photo shows my half of the room, which includes a closet, desk, chair, dresser, and bed—which were all supplied by Dartmouth. The other half of the room (which is not pictured) is my roommate's room, which is separated by a wall and a door. I cannot say that all dorms at Dartmouth or in other LLCs look like mine, but my room is a source of comfort and one of my favorite spots on campus. 

 

 

During the beginning and end of the term as well as during midterms and finals, the LLC community will order food from local restaurants. Students come swarming for free Chinese food from Han Fusion and Thai food from Tuk Tuk. We also have "Humani-teas," where we drink tea, eat snacks, and chat with a Dartmouth professor.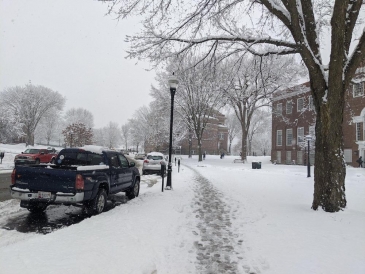 Spend a Day With Diana D.
This term, I stacked my schedule, so all my classes meet on Monday, Wednesday, and Friday. In this blog post, I will take you through a typical day of classes for me at Dartmouth.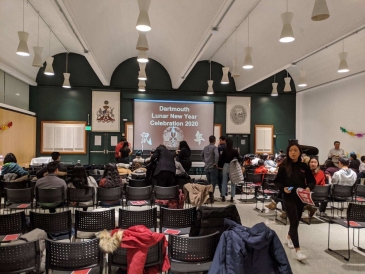 Pages