« All Posts by this Blogger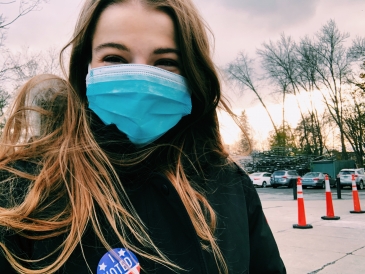 Diving Into Government at Dartmouth
This term, I took a big leap and signed up for not one, but two classes in the Government department. I decided that I wanted to be a government major after a complete change of heart regarding my initial plan to study English. This flexibility is one of the beauties of a liberal arts education -- you can come in with one academic plan and then walk out with a completely different degree. 
The first of the two government courses I took was an introductory course titled "Government 3: Introduction to American Politics." The course, taught by Professor Herschel Nachlis, focused on the study of U.S. political institutions, processes, and behaviors. With the 2020 election defining much of the past few months, there couldn't have been a more timely course for this fall. Each week, we met in both small discussion groups and as a large class to talk about the assigned readings.  It was exceptionally discussion-based and collaborative -- something I've found most of my classes at Dartmouth prioritize so far. Each week, we had a reflection due on the readings we were assigned, as well as a mandatory online discussion thread that we had to contribute to. As a class, we've talked about everything from the role of the media in the Black Lives Matter Movement to the validity of the electoral college. I was challenged by my peers, dug deep into analyzing scholarly literature, and broadened my understanding of the American political system. One of my favorite memories was seeing my peers, who I had previously just seen over Zoom, in-person at the polls on election day. There is nothing quite like seeing the discussions we have in the classroom manifest into democratic participation. The photo attached to this post is me and my "I voted" sticker!
My other government class was "Government 50.02: Insurgency, Civil War, and International Response." This mid-level course on the international relations track was taught by Professor Jeffrey Friedman. We started out the course discussing the theories of civil war, then learned about how wars were fought, and then spent the rest of the course unpacking case studies. We had three core assignments for this class: two policy memos and one final exam. For one of the memos we were asked to write about how we would change the way the U.S. organised the 2008 "Surge" in Iraq. For the other, we were asked to develop a policy recommendation for the Taliban-US peace talks. These were arguably the toughest writing assignments I'd been given thus far. That being said, Professor Friedman gave us excellent feedback throughout the drafting process, which made writing such complicated analyses doable. 
I am so excited to dive deeper into the government department in the coming terms!