« All Posts by this Blogger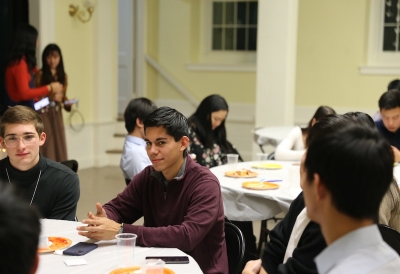 Working as a Drill Instructor
Today I want to talk a bit about drill at Dartmouth. First off, you might be wondering, what is drill? Drill is part of every introductory language course at Dartmouth—it is an extra class taught by an Apprentice Teacher (most commonly known as the drill instructor) who leads a group of about five students through speaking exercises to improve conversational skills. Traditionally, drill is split into three hour-long sessions per week, and is super casual, unlike most classes.
This term, I decided to become a drill instructor for the Spanish Department. I grew up speaking Spanish at home, so I figured this was a great chance to practice my own skills while helping others with their learning. As you might expect, drill in spring term 2020 was like no other. Our sessions were held over Zoom, and much of the dynamic movements used by drill instructors to help students with the exercises had to be altered, or downright eliminated. Personally, I was a little nervous about this as I applied for the position—not only had I not been a drill instructor in the past, but I had never had to attend drill in my time at Dartmouth.
Fortunately, the Spanish Department did a great job training new arrivals and made me feel comfortable teaching through the screen. So, after a week of practice sessions and an audition with Dartmouth professors, I was ready to go.
I was assigned to teach Spanish I drill to five students who had never taken the language at a college level. Again, I wasn't sure what to expect because of the online format—but from the very beginning, I knew I had a great group. My students (aka drillees) had awesome energy and were excited to learn. 
Our sessions were only thirty minutes this term, so they were jammed-packed with exercises. However, my professor gave me lots of freedom to experiment and have fun with my group. So, I decided to make every Friday session half exercises, half Kahoot! Each week, I made a game with random questions to teach them new vocabulary, and just to have some fun. I think this was definitely needed; my drillees put in a lot of work, and it was nice to go into the weekend relaxed.
Overall, I loved being a drill instructor, and will definitely do it again in the coming terms—online or on campus.