You are here
Fall

On Campus

Chinese 004 was my first language class at Dartmouth. Although the class was fast-paced and a lot of work, my professor, Alan Li, was really engaging and I became close with my classmates.

Winter

On Campus

I really enjoyed this class! My professor, Charles Wheelan, was so hilarious and an amazing lecturer. I still find myself applying concepts I learned in that class to my real life.

Spring

Remote

As part of Dartmouth's liberal arts mission, all students have to take a technology or applied science course with a lab component in order to graduate. I decided to take computer science 1 to fulfill this requirement. As someone with no prior coding experience, I definitely was challenged in this class. However, by the end of the term, I gained a valuable skill and was really proud of how far I came!

Fall

Remote

This class inspired me to be a history major! In this class, I learned about the major economic developments that occurred from the 1800s till now. I found this topic to be very fascinating, and I really enjoyed the way my professor, Stefan Link, taught the material.

Fall

On-Campus

I have really enjoyed Public Policy 45 with Professor Ronald Shaiko. As a public policy minor, I have found the material in the course to be both interesting and useful. In this course, we learn about different research methods and apply what we learn to conduct non-partisan policy research.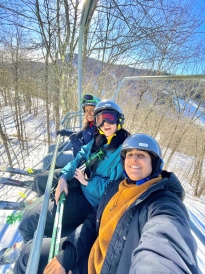 Having Fun at the Skiway!
Without a doubt, winter carnival is one of my favorite Dartmouth traditions. Every year, I get excited about the myriad of activities there are to do, ranging from making ice sculptures to competing in a snowshoeing race.
Pages