« All Posts by this Blogger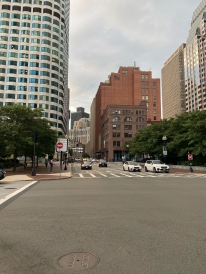 Interviewing Students Who Are Taking A Leave Term
As part of Dartmouth's D-Plan, students have the opportunity to take one leave term during the fall, winter, or spring of their sophomore or junior year. Many of my friends are taking their leave term this winter, so I thought it would be fun to interview them about their experiences so far. 
What are you doing during your leave term?
M: I'm working as a development intern at Reach the World.
N: I am working as a clinical research intern at Beth Israel Deaconess Medical Center.
S: I'm a consulting intern at Arthur D. Little
T: Working as a leadership consulting intern at Spencer Stuart
Did Dartmouth help you get this internship?
M: Yes, I applied through the DCSI.
N: It was sent to me through the Health Profession Program listserv, which is specifically for Dartmouth students.
S: Yes, I found this internship through the Center for Professional Development. The other two interns at Arthur D. Little are also Dartmouth students.
T: Yes, I found this internship on the CPD.
Where are you living during your leave term, and who are you living with?
M: I'm living by myself in New York City.
N: Boston and my parents.
S: I'm living with my good friend Tanzil, a Dartmouth '23, in Boston.
T: I'm living in Boston with my GREAT friend Sophia, a Dartmouth '23.
What is the biggest adjustment you have had to make while living in a new city?
M: I would say having to cook for myself and doing my own grocery shopping has been a big adjustment.
N: Transportation is a lot more complicated now.
S: I had to get used to taking the subway everywhere and grocery shopping alone.
T: I have loved it here so far, but the one thing I had to adjust to, being from Texas, is the cold weather (brrr).
Do you miss being on campus?
M: Yeah! I really miss my friends and the convenience of living on campus.
N: Yeah, I miss seeing my friends on the daily and not having to commute far to work.
S: I do! Even though Boston is amazing, I loved seeing my friends every single day on campus.
T: Yes! I have missed Hanover dearly, but I know it'll be there when I come back.