« All Posts by this Blogger
A Fun and Fulfilling Parents Weekend!
This term, Dartmouth hosted Family Weekend. Typically, Family Weekend is a weekend during spring term for the parents of freshmen to explore their child's campus and learn more about their child's life as a college student. However, both the '23s and '24s missed the chance to have Family Weekend during their freshman year because of the pandemic. So, to allow these students to experience this event, Dartmouth decided to host a Family Weekend for them during the fall.
I was so excited when I learned that I and other '23s would have a Family Weekend this term. Being from Texas, which is quite a trek from Dartmouth, I usually keep up with my parents by calling, FaceTime, and texting them throughout the term. I was excited about seeing them in person because I missed them so much! Another reason why I was excited about Family Weekend was that I wanted my parents to see the campus I call my home away from home and meet my amazing friends.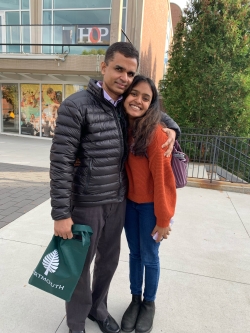 From the moment my parents arrived, their schedules were fully packed with Dartmouth-sponsored lectures and events. My parents particularly enjoyed a talk given by Dr. Michele Tine, a professor of Sociology, on whether education acts as a great equalizer in society. They also enjoyed the presentation given by student panelists and faculty on what the next two years of college life will look like for the '23s. My parents felt like they got a better understanding of what I do in college and how I am preparing myself for life after graduation. 
Apart from the official Dartmouth events, my parents were also able to experience Dartmouth through my eyes. I gave them a tour of campus, making sure to show places that I normally frequent. In particular, I showed them my dorm, the dining halls, Baker-Berry Library, and the Green. Many of my friends' parents also came to campus for Family Weekend, so my friends and I thought it would be fun to have a group lunch at TuckerBox, a Turkish restaurant only ten minutes away from campus. The food was delicious, and it was so fun getting to meet my friends' parents.
Family Weekend was over in the blink of an eye. It was such a great weekend, and I am so glad I was able to see my parents in person and show them Dartmouth!