You are here
Fall

On-Campus

Coming in with very little programming experience, I was pleasantly surprised by the beginner-friendly nature of this course. Although a very fast-paced course, CS1 gave me the academic confidence I needed my freshman fall. I was able to code games, maps and drawings all in 10 weeks, always surrounded by help from Vasanta (our lovely professor) and over 20 teaching assistants. I also made some close friends through the course, so I would highly, highly recommend it to anyone.

Winter

On-Campus

This has been my favorite class at Dartmouth thus far. Co-taught by a married couple, the introductory course fostered a challenging, yet welcoming environment for mainly first-year students. After learning about basics in epidemiology, immunology, microbiology and statistics, we dedicated entire lectures to specifically learn about over ten infectious diseases. I particularly enjoyed understanding treatment methods (vaccine, drug discovery, prevention) from both the scientific and epidemiological points-of-view, and the connections we made to current events. Now, I can confidently contribute to conversations about topics I used to be intimidated of.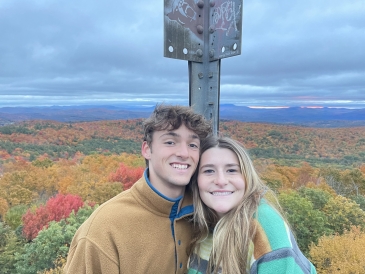 Fall in the Upper Valley
In this week's post, I share how I take advantage of the beautiful fall weather in the Upper Valley. I ran/"hammocked" in Pine Park, went apple picking with club ski and hiked Gile. Exploring is one of my favorite parts of the Dartmouth experience.
Pages