« All Posts by this Blogger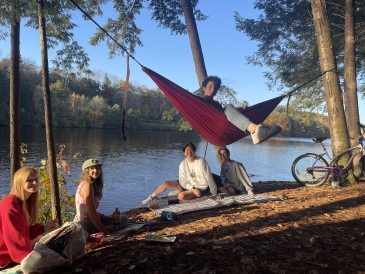 Food at Dartmouth and in Hanover
What's up, everyone! I can't believe we're heading into Week 7 already. Today, I'm going to provide a quick, but thorough, review of the food at Dartmouth and in Hanover. To be quite honest, coming into it, I didn't have very high expectations for college dining, but I was pleasantly surprised.
First, I'll talk about our main dining hall: the Class of 1953 Commons, except that's the first and last time you'll hear it called that: on campus, we call it "Foco." Upon swiping with my Dartmouth ID, I'm met with many options:  an everchanging hot bar, grill station, salad, and soup bar, sandwich station, vegan, and even a Kosher station. My favorite part of the dining hall, and I think I'm speaking for a lot of people, is finding "Foco hacks" or creative ways to mix and match food from different stations. Mine is taking a mug and the famous Foco cookies, and then adding vanilla soft serve to create the perfect dessert combo. Although I've only been here for a few months, the great variety of options makes it difficult to repeat a meal.
To overview some of the other on-campus options, Collis is a very popular one, known for its smoothie bar and sushi. They also have a "Collis special" for lunch which changes each day; some recent highlights include roasted vegetable tortellini and teriyaki chicken with peanut salad. The "Hop" is known for its sports bar-type food and as the "late night" dining option which is a common spot for students to unwind and socialize after hitting the library. The Fern is a relatively new spot located in the Irving Institute, rather close to my dorm. They serve (in my opinion) some of the best coffee, smoothies, sandwiches, and salads, especially their chicken Caesar wraps and espresso drinks. There are other on-campus spots with similar options, like Café@Baker (in the library) and Ramekin (on the north part of campus.)
I haven't found going off-campus for meals to be very necessary, but it has proved to be a nice study break and a good way to explore what Hanover has to offer. Still North seems to be a favorite amongst my peers because it's a great, comfy study spot inside of a bookstore. They have unique coffee, sandwich, salad, and pastry options with a very relaxing ambiance. Another favorite is Tuk-Tuk Thai which is tucked away on one of the side streets close to campus. Their pad Thai, fried rice, and green curry are talked about all around campus. I highly recommend checking these places out!
Sometimes, campus events and student organizations will cater food from restaurants like Tuk Tuk Thai, Lou's (a famous diner spot), and Base Camp (a Nepalese restaurant) to their meetings which is a great way to support small businesses and build community. Although I sometimes miss New Jersey bagels and some New York pizza, I've really fallen in love with what Dartmouth and Hanover have to offer to the foodie community. There are still many meal combinations and dining spots I have yet to try, and I hope you can try some of these options too!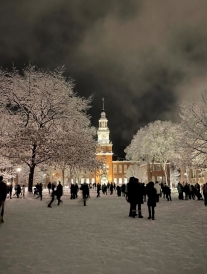 Dartmouth campus officially resembles a winter wonderland. Here are some of its defining characteristics.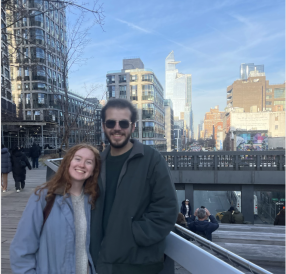 I interviewed my friend, Catherine, who went to high school in downtown Manhattan on her transition to school here at rural Dartmouth.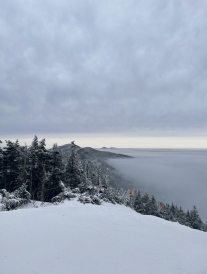 No matter your experience or budget, I'm sure you can make skiing a fun part of your winter Dartmouth experience if you would like. So how easy is it to ski at Dartmouth? I couldn't imagine it being easier! 

This weekend, I explored a local venue full of fun in White River Junction!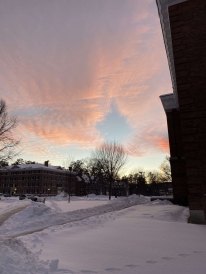 One of the many considerations for me when looking at colleges, was the availability of research—something which Dartmouth is great for! Read on to hear more!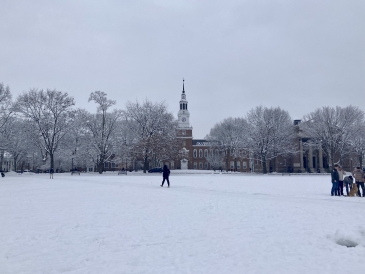 Plot twist: I didn't want to go to a school with cold weather. Here's how I've been pleasantly surprised by Dartmouth's winter so far!

I realised many of my posts relate to different parts of my identity: being multiracial, being Latino, being queer, and much more. But here, I seem to have never talked about being Christian!
Antônio Jorge Medeiros Batista Silva
2025
I wanted to let you in on my Greek life experience and give you my take on making friends and connections without it.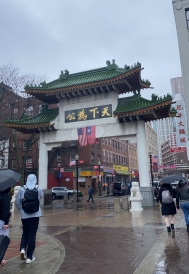 Find out what a fun weekend can look like on and off campus!