« All Posts by this Blogger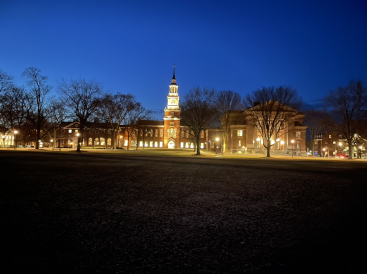 Spring Term Classes
I am writing this blog post as I enter the third week of my spring term. As I am reflecting on my Dartmouth experience so far, I want to spend some time talking about the classes that I am taking this term. I hope that by talking about my classes, prospective students know about the possibilities of their Dartmouth experience. In my first year, I took classes that genuinely interested me and classes that I am passionate about. You have plenty of time to meet your requirements for the major, distributive, and world requirements. My advice is to utilize your first year to pursue passions that you want to further pursue. 
This term I am taking Sociology 1, which is the introductory course for the Sociology major. I really enjoy this class; we have a ton of class discussions and the material is awesome. We are assigned a term-long discussion group, and my group leader is so kind and knowledgeable. We analyze and discuss the reasons behind class stratification, power dynamics, and social and economic inequalities in society. This class is helping me further develop my sociological imagination and I am very excited to learn a ton more this term! :)
Secondly, I am taking Economics 21, an intermediate microeconomics class (required for the major). This class has helped me further develop my multivariate skills and I am learning how to utilize the knowledge that I learned in Economics 1, but with a calculus approach. This class is very interesting because Professor Doyle is very kind and makes learning really enjoyable. Right now, I am learning about compensated and uncompensated demand, and the role of the lagrangian function in maximizing utility or minimizing expenditures.  
Thirdly, I am taking Modern Arabic Literature in Translation, a class that has beautiful and unique readings. Right now, we are analyzing and discussing Midaq Alley. The imagery in this book is eye-opening and I am genuinely enjoying this class. The class is humongous (140+ students), but if you ever have the opportunity to take it, I 100% recommend it. See you all next week! :)