« All Posts by this Blogger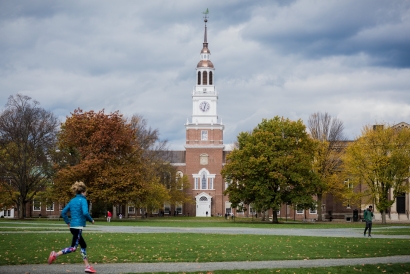 To Future '26s: Opportunities at Dartmouth?
As I continue on with my Dartmouth journey, I want to discuss the many opportunities for growth offered here at Dartmouth College. I hope that future '26s know about these resources and opportunities and take advantage of them.
I have completed my fall and winter terms of my first-year experience and am now embarking on my spring term. I have been able to take advantage of many resources such as office hours offered by professors, programs in the Center for Social Impact, research with a post-doc fellow, etc.
As I am reflecting on my first two terms, having a detailed schedule for every day really helped me in ensuring that I was successful in my academics and other time commitments. Some advice that I have for future '26s is to take your time and adjust to the College at your own speed. I was very fortunate enough to participate in the FYSEP program before the beginning of my fall term. The program empowers and prepares first-generation students by giving them a foundation for community, even before the beginning of orientation.
Furthermore, there are so many opportunities for Dartmouth students to get involved on campus from joining student clubs to social impact in the greater Upper Valley community. For example, during orientation, all registered student clubs set tables on The Green to promote their clubs to students. In addition, if you choose to work in the Center for Social Impact, you can choose to visit local schools and teach lesson plans to younger students!
I hope that this blog post offers insight into the possibilities here at Dartmouth. Your Dartmouth experience is what you make it, remember to take risks and to always put yourself first. I hope that my experiences and perspectives offer another perspective to your search for your new home for the next four years! Welcome to the College, '26s!