« All Posts by this Blogger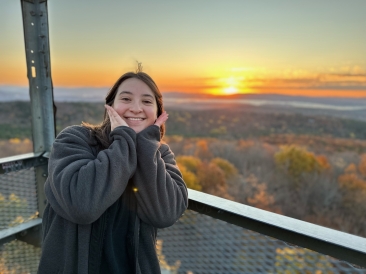 '25 Spotlight: Citlalti Gaeta
For this week's blog post, I want to feature my friend, Citlalti Gaeta '25. She is originally from Los Angeles, California. Her hobbies include swimming, reading, and making Spotify playlists. At Dartmouth, she is a part of the DCO, Dartmouth Chamber Orchestra. She plays the flute and loves to partake in the termly concerts. 
Her favorite thing about DCO is gaining the opportunity to learn valuable orchestra pieces ranging from orchestral to more modern pieces. One of her favorite classes at Dartmouth thus far has to be Sonic Arts taught by Professor Fure. Citlati learned how to use music production software and got the opportunity to create her own pieces and share them with her friends and class. 
Furthermore, she is a prospective biology major and plans to go to graduate school. She wants to conduct further biomedical research in her graduate studies. Currently, at Dartmouth, she does research centered around biofilms and the role of the microbiome in Cystic Fibrosis in the O'Toole lab located at Geisel Medical School. She studies the role that a certain type of bacteria called Bacteroides plays in the gut in patients with Cystic Fibrosis.  
Also, Citlati works at Novack Cafe, an amazing spot on campus where you can get wonderful coffees and listen to diverse music. She is a part of the Student Worker Collective at Dartmouth. Recently, they successfully raised the minimum wage for DDS workers to $21 per hour. Her favorite thing about working at Novack is the close-knit community within the team. She loves getting to meet new people and make nice Starbucks drinks! 
Altogether, I hope this blog post provided some insight into Citlati's Dartmouth experience thus far! Her experience is very valuable and this blog post is only a short snapshot of Citlati's life at Dartmouth. Until next week! :)