« All Posts by this Blogger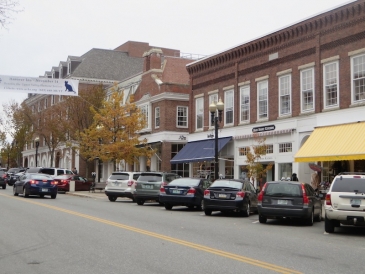 The First-Year Series: Hanover's Food Scene
Hi all!
As summer comes to an end, Dartmouth is prepping to welcome the class of '24 to their first year on campus. So, one of the questions they and their families have in their mind is: what's the food like? 
If you are curious about food at our dining halls, you can check out this awesome blog by May Oo Khine '23. But if you're curious about the food scene outside of campus, take a look below for my top 5 favorite restaurants in Hanover.
1. Lou's
At Lou's, you can find some of the best breakfast in town. Besides the classic selection of eggs, biscuits and sandwiches, Lou's has awesome pastries. Their bakery makes fresh muffins, donuts and scones, and can even make cakes to order—perfect for birthdays! 
This restaurant is also famous for the Lou's Challenge—in which Dartmouth students stay up all night and eat breakfast at Lou's when it opens. '24s, you might think that sounds like a bad idea right now, but trust me, it's worth it.
2. Molly's
Molly's has been around longer than any restaurant in Hanover, and for good reason. It's the perfect place for lunch between classes—here you can find all kinds of sandwiches, tacos, soups, and salads. 
3. Sushiya
If, like me, you can't go without sushi longer than a week, Sushiya is the place for you! They make their sushi with the freshest ingredients, and have great lunch specials (perfect for broke college students). Besides sushi, you can find great rice bowls, noodles, soup.
4. Pine
Being the fanciest restaurant in Hanover, Pine is the perfect place to celebrate any special occasion—birthdays, parent visits, anniversaries, anything! Their menu ranges from burgers to lobster rolls—there is something for everyone.