« All Posts by this Blogger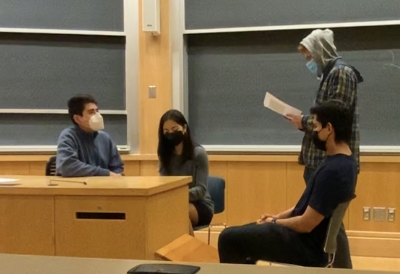 Academic Support at Dartmouth
My high school teachers always told me that college classes would be harder. I never quite understood what that meant, but my time at Dartmouth has shown me that they were 100% right. College classes not only teach more complex topics, but also pack what would be a full year or more of learning in high school into a semester or, in Dartmouth's case, a 10-week quarter. So, courses move fast.
However, there is more "free time" than there is in high school. Dartmouth students generally take three courses per quarter, totaling about ten hours of lectures per week. The rest is up to you! So, when thinking about what you want in your college experience in terms of clubs, social life, and health, you have to find a balance that also allows enough time to study and finish hours of assignments each day. However, you're not alone. Each academic department at Dartmouth has support systems in place to make sure students have the tools they need to succeed. Here are a few:
Office Hours:
In all honesty, I rarely attended office hours as a first-year. Sometimes that was because I felt good about the content and didn't have questions, and others because I was so confused that I didn't know what to ask. Don't be like me! Going to office hours even if you have nothing particular in mind is a great way to get to know your professor, learn from the questions of other students, and check your understanding of course material.
Tutors:
Most courses at Dartmouth offer tutors through the Academic Skills Center and, recently, through the First-Year Student Enrichment Program (FYSEP). There are both individual and group tutors who work directly with the course professor to organize weekly review sessions and office-hours. These students have taken the course themselves, so their experience and advice can be invaluable.
Learning Fellows:
More and more classes are employing Learning Fellows (aka LFs). LFs attend class and facilitate group activities. They ask guiding questions and check your work as you go, making it easier for you to grasp and apply course concepts.
Teaching Assistants:
Lastly, we have Teaching Assistants (aka TAs). TAs are a bit like LFs, but generally don't attend lectures. Their role is outside of the classroom, hosting office hours, review sessions, and being available over Slack or email to answer student questions as they come up. They are trained and supervised by the course professor, so they are a great resource if you are ever stumped or need some study tips.
These are just a few of the academic resources available at Dartmouth. So, don't you worry. College is hard, but Dartmouth's mission is to help you succeed.