« All Posts by this Blogger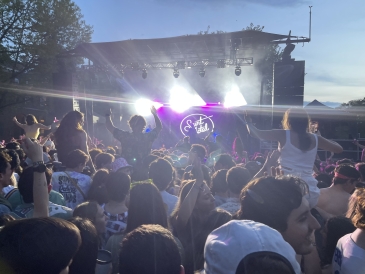 Green Key!!!!!!
It's a Dartmouth tradition to celebrate Green Key every spring. What exactly is Green Key you ask? Well, it's a weekend where Dartmouth students celebrate spring's arrival on campus through concerts, food, and other events. In short, it is one of the best weekends ever. 
This year, our Green Key concert headliners were KYLE and Saint Motel with Doechii as an opener. This means that on Friday at around 6:30 what looked like the entirety of the Dartmouth student body was in the Gold Coast Lawn awaiting the performance of these artists. The Dartmouth Programming Board did an amazing job at planning this year's concert; it was a huge success. The concert was really full as the crowd was so excited for the upcoming weekend. 
Even though the main event occurred on Friday with the concert performances, Green Key festivities start much earlier. Many sororities and fraternities hosted their semi-formal events on Wednesday so that was a pretty fun day too. On Thursday, artists such as What the Folk?! performed in Collis Common Ground and there was free BBQ provided to all concert goers. On Friday before the main concert, there were artists performing at Collis such as the Dandelions and Frank. There was also an annual block party on frat row with artists performing in front of Phi Delt's lawn. Everyone was there. 
On Saturday, the Zeta Psi fraternity hosted a crawfish boil which was extremely popular. I spent most of my day at the Dartmouth Organic Farm which is a short drive away from campus. There were continuous shuttles taking students to and from the farm where we enjoyed music, food, and time in the outdoors! After returning from the farm I went straight to KDE where the musical duo NOTD would be playing. This was an extremely popular event and quickly filled to capacity. I cannot stress how fun it was to attend this—the vibes were unparalleled. 
There was also so much free food this weekend! Given the intensity of Green Key activities and the hot temperatures, many on-campus organizations such as the Collis Governing Board made sure that students had enough access to food and water throughout the weekend. There were always events and activities at Collis such as Late Night Breakfast, Ben and Jerry's, Panera, and games on the patio. 
The amount of concerts and activities made this a weekend to remember. Everywhere I went I saw familiar faces enjoying the weekend's festivities. It seemed like absolutely EVERYONE was out enjoying events and the warm weather. Seeing Dartmouth traditions come to life is a feeling I will never get over. I feel like I say this in every blog post, but I really love Dartmouth, and I am so happy to be here.