« All Posts by this Blogger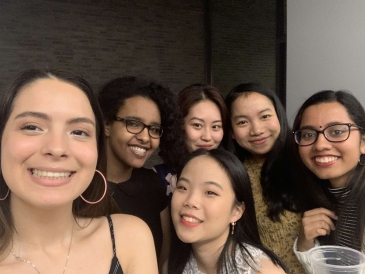 Why I love working with Admissions
 Recently, I got the chance to meet a few prospective students to talk about my time at Dartmouth so far as a rising sophomore. Answering their questions, listening to their personal stories and worries, and simply sharing some of my experience at college really got me to realize one of my favorite things to do at Dartmouth: reaching out and making Dartmouth as accessible as possible to prospective students from across the world.
I remember the first time I got really excited about Dartmouth. It was late 2018, right in the midst of college application season, and I had just gotten a fresh edition of 3D, Dartmouth's undergraduate admissions magazine, in the mail. I'd forgotten that I had signed myself up in the mailing list, so imagine my surprise when I learned there was a package for me addressed from Hanover, New Hampshire, approximately 8,000 miles from my hometown! As an international student, especially from a small country like Myanmar, it was exciting to receive college mail and I think my personal connection with Dartmouth blossomed from that moment. I knew that if I ever did get into Dartmouth, I wanted to help other students like myself—students who live half way across the world, are unable to visit campus, and lack access to alumni or college representatives in the area—learn more about Dartmouth and feel the same excitement I did!
At Dartmouth, there are several opportunities to get involved with working with admissions if you're someone who's interested in talking with prospective students and sharing your story. Whether it is through assisting at the Office of Admissions, being a tour guide (yes, there are virtual tours too!), blogging for People Places Pines, or a writer for The Dartmouth (America's oldest college newspaper!), there are many ways you're encouraged to and can take advantage of to have your voice heard. Dartmouth students also regularly speak at admission panels and college visits or participate in Take Dartmouth Home, a program where we visit our old high school or others in the local area and talk about our college experience to prospective applicants.  
Blogging for People Places Pines has definitely been one of the biggest ways I have been able to share my story and perspective as an international student at Dartmouth. Whenever I meet other bloggers in the team or read their blog posts, I'm inspired by how excited we are to brainstorm topics for prospective applicants, give some tips and tricks, and provide insight on college life.  It gives me a great sense of purpose and joy to think that hopefully, I'm able to relate to a prospective student even in the most remote of places. There's still a long way to go until graduation and despite the inevitable changes I will face, being able to reach out and help other students access Dartmouth will always be one of my most treasured college experiences.