« All Posts by this Blogger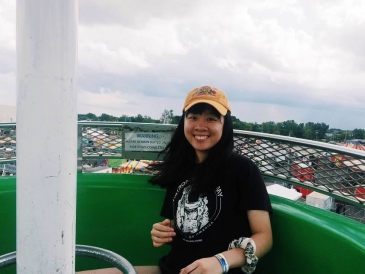 Freshman Year Courses, Major Musings, and More
With my last freshman term at Dartmouth now halfway over, I've been thinking about my academic path and what it is going to look like going forward. For you guys, I know many questions abound: What did Love end up taking her freshman year at Dartmouth? What is she majoring in? How do I decide what I want to major in? How do I choose classes myself?
Hopefully, my musings about my freshman year will give some insight!
In high school, I was a classics/humanities nerd™ and read philosophy, studied lots of Latin, and grimaced whenever I saw a chemistry problem. It wasn't necessarily that I *sucked* at STEM, but I found the arts and literature to be more natural for me to digest (not to mention more interesting). As a homeschooled student, I also just had no access to things that would make subjects like science easier for me, such as fully-equipped labs, in-person teaching, or a teacher at all. I applied to college undeclared and hopefully on the pre-med track, but I wasn't 100% set on anything and was still open to changing my mind.
How did I end up choosing classes this year? Lots of reading, talking things over with my mom, and schedule matching! I had some built-in guidance since I knew I wanted to take a statistics class and start on my other pre-med requirements early.
Here are the courses I took my freshman year, with three in the fall/winter and four my spring term:
Biology 11 (biology, genetics, and evolution) w/ Prof Peterson
HUM 1 (classics and literature) w/ Prof Mladek
QSS 15 (data science/statistics) w/ Prof Heron
CHEM 5 (general chemistry I) w/ Prof Lipson and Prof Pletneva
MES 7.03 (first-year seminar on Jerusalem) w/ Prof Glinert
PBPL 5 (public policy) w/ Prof Wheelan
CHEM 6 (general chemistry 2) w/ Prof Glueck
COSC 10 (data structures) w/ Prof Li
MATH 24 (proof-based linear algebra) w/ Prof Lin
FREN 2 (2/3 language requirement) w/ Prof Lerme
4 classes fell into the "non-STEM" category and the remaining six were more STEM in nature, but in different departments: statistics, mathematics, chemistry, computer science, and biology.
It may be surprising that I ended up taking so many STEM courses given my previous aversion to said subjects. This happened because I decided pretty early on that I wanted to use Dartmouth's resources in this area, strengthen my weaknesses, and focus more on science and math during college (especially since I knew that I would still read classics and study philosophy on my own time). Each term, I decided to do one humanities, one STEM, and one odd-ball, which worked out pretty well. I ended up taking 3 STEM courses in the spring, but it is a little easier to handle since everything is P/F.
And now, I'm a prospective math major and public policy/chemistry minor! Chemistry is still up in the air, since I added it because I only need one more course outside of my pre-med requirements to get the minor. I may end up modifying math with computer science or philosophy in the future, but right now this is what I'm going towards! I grew to love math by my senior year of high school and generally find it beautiful, fascinating, and super fun to think about (especially paired with deductive logic). Public policy is a perfect mix for me of the more theoretical stuff that I did in high school, like logic, philosophy, etc. but with a practical backing that I hope to use in the future to lobby and advocate for healthcare access, poverty alleviation policies, and policies concerning children (such as the foster care system, education, and instances of abuse and neglect). 
As you can probably tell, this decision was made after lots of thinking, planning, and scrapping everything and starting over. While deciding my major, I thought about what was realistic for me (I got rid of engineering pretty quickly once I realized I would have to double up on labs my freshman year), what I wanted to spend my time doing (not super interested in only learning about the past), what could give me a stable, interesting, and relatively lucrative job if I didn't get into med school, and what would be the best use of my time ("best" being things that I couldn't learn on my own, things I wouldn't have the chance to learn post-college, and things that gave more tangible results).
I had about 20 possible majors when I arrived on campus and narrowed it down little-by-little. I spent too many hours over winter break, too many hours in the summer before getting to Dartmouth, and even more time while choosing classes thinking about my major and its implications. It was especially difficult for me because I had been such a "jack-of-all-trades" in high school and felt like I was closing a door/possible future each time I ticked potential majors off. I always knew that I was pre-med, which gave a little leeway into my decision making-process since I knew that I wouldn't necessarily have to lean on my degree the way others might. Also, I took comfort in the fact that majors don't define your life and you can still study the things you love on your own!
Though it can be frustrating when you don't know what you want to study as an incoming freshman, my piece of advice would be to not think about it too much in advance! I spent hours agonizing over course plans, possible major combinations, and possible pros/cons of each, but found that you will fall into your majors and courses pretty naturally once you have a better feel of Dartmouth and your place in it. Majors are a unique combination of what you love/enjoy studying, what is practical, and what can give you a good future. You will find this balance the more time you spend at school and in the world as an "adult" post-high school. There's lots of help on-campus, and you can start with your advisor, your dean, or even faculty members and upperclassmen.
And what started off as musing about my freshman year has turned into an advice session for prospies! A lot of things I do actually turn out like that, funnily enough. My academic journey is nowhere set in stone and I am constantly thinking about abandoning everything and just doing a classics major and learning Greek, or taking up acting and studying theater. I'm taking life day-by-day and learning to take things as they come, without constant over-worrying. If something changes tomorrow and another major catches my eye, I'm still early enough in the process to choose that one instead! 
Except for econ and investment banking, obviously. I'm no snake.
(That was sarcasm!! I have lots of friends who are econ majors and whom I love!)