« All Posts by this Blogger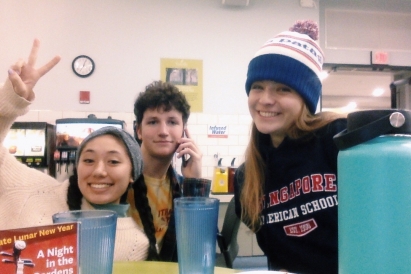 My (Socially-Distanced) Dartmouth Bucket List
There are so many things that come to mind when I ask myself what I miss about campus. The smiles as you pass classmates on the Green, the satisfaction of finishing a paper in the Baker-Berry tower room, the sweet taste of a FOCO cookie. I'm not quite sure when I'll next be on campus, but when I do finally step off the Dartmouth Coach and into Hanover, there are a couple of things (socially-distanced, of course) that I certainly will be doing. 
1. Ordering a chicken tender quesadilla from the Hopkins Center's Courtyard Cafe. Yum. I could eat these all day every day, and quite frankly, there was a period during Fall term when after dance and rowing practice, I would do just that.
2. Spending a late night in Baker-Berry Library. There is nothing quite as inspiring as sitting on the third floor of Baker and watching your classmates grind out a problem set or essay. People have their headphones in, listening to their respective study playlists, but there is a sense of community that I cannot quite put my finger on. After spending Spring term doing online classes alone, I simply cannot wait to work alongside others once again, even if it is in silence. 
3. Stargazing on the BEMA (Big Empty Meeting Area). In the big city that is Singapore, we don't get the kind of stars that dot the sky above Hanover. I remember looking up at night for the first time during First-Year Trips—it was ethereal. 
4. Hiking with friends.  From Gile Firetower to Balch Hill to something more intense like Moosilauke, there are so many places to get out in nature. The beauty of having the wild at our disposal is that it's the perfect way to gather responsibly despite COVID-19 restrictions on spacing. 
5. A socially distanced picnic on the Green. Now, this is a seasonally-dependent thing, but during Spring or Fall term, there is nothing quite like getting a Collis pasta, salad, stir fry, or smoothie to go and eating it on the grass with some friends. Be it frisbee, spike ball, local dogs, or the Hanover farmers market, there is always something to watch—six feet apart, of course. 
6. Exploring Hanover. Now, the town of Hanover is exceptionally special. From the cute cafes to locally-owned stores, it's so great to hop off-campus and take advantage of all the good eats, entertainment, and shopping that Hanover has to offer. Most cafes and restaurants are currently offering outdoor seating that spills out onto Main Street. Ah, to experience small-town life once again. 
7. Running or biking along the Connecticut River. I've never been a big fan of running, as coming from the equator, "going for a run" means melting the bottom of your shoes on steaming pavement in 100-degree weather. But in late February when the weather started to warm in Hanover, my team began going for runs up the Vermont side of the Connecticut River. For the first time in my life, I actually began to look forward to tying up my running shoes. There was nothing quite like seeing the morning sun glinting off the river. 
8. Seeing the incredible Dartmouth community again. Without question, the hardest part of being away from campus has been separation from the wonderful people I met over my first two terms at college. Seeing their faces (even with masks on) and sharing laughs again will make my heart swell. I simply cannot wait.