« All Posts by this Blogger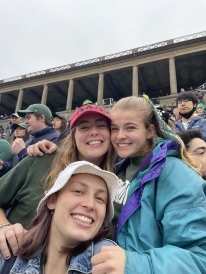 Harvard, Halloween, and More!
One of the best parts of Dartmouth is the way that students are willing to cram in a ridiculous amount into any given term. Last weekend was no exception.
Friday started with Halloween festivities. My sorority, Kappa Kappa Gamma, along with the fraternity Alpha Chi Alpha got together to partake in the Center for Social Impact's DREAM and OLE trick-or-treating. DREAM and OLE are two organizations on campus that aim to close the opportunity gap for youth living in low-income housing communities in Vermont by providing programs and mentorship. We baked cookies and put together to-go bags of decorations for the kids who came by in costume. It was so fun to see the kids running up and down Webster Ave with their DREAM and OLE student mentors. People were out on their lawns throwing footballs and playing volleyball amidst the crisp fall air. It was simply perfect.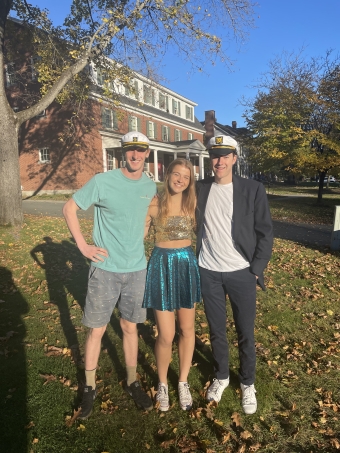 Saturday, Dartmouth students bussed down for the Harvard-Dartmouth football game, which Dartmouth won 20-17. Honestly, it seemed like there were more Dartmouth students than Harvard ones in attendance! The alumni came out en masse, and it was so lovely to reconnect with old faces and friends. After the buzzer hit, the entire Dartmouth section stood to sing the alma mater together. It was one of those moments when you simply realize how much you love the school. It felt great to be a Dartmouth student.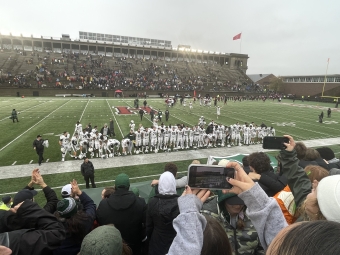 On Sunday, my friends and I bused (once again) up to Burlington, VT for the Noah Kahan concert. He's an artist from the Hanover area, and his songs truly capture the essence of New England. My freshman fall, five friends and I went down to Boston to watch him perform (I wrote an article about it called "We Took the 89 to Boston"!). It truly felt like a full-circle moment as we watched Noah sing -- as juniors this time. Dartmouth students must have made up at least half the crowd, and many of us were brought to tears singing Carlo's Song, which is about the Gile Mtn. fire tower near campus. As it was Halloween, we went in costume. I was a disco cowgirl and my friend Sophia went in an inflatable shark costume.