« All Posts by this Blogger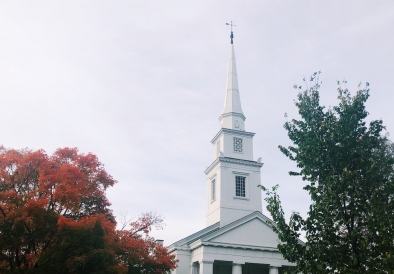 Pursuing Faith at Dartmouth
I was raised Christian in a small, very church-centered town in South Carolina (literally the main landmarks of my hometown are the Methodist and Baptist churches). Coming to Dartmouth, I knew I wanted to continue to explore my faith, but I wasn't sure what that would mean. Because the vast majority of my home state identifies as religious (80%!) my experience with Christianity on campus has been much different than my childhood. However, I've found that the intentionality that's required to pursue religion in college leads to a super rewarding experience! Additionally, before I go any further, I want to acknowledge that Christianity is certainly not the only faith practiced at Dartmouth (check out links to other religious affinity groups here!) and that my experience on campus is undoubtably influenced by the status of Christianity in the US.
Before I even arrived on campus, I filled out an online form which told Dartmouth about my religious affiliation and allowed that information to be shared with affinity groups on campus. At the beginning of orientation, an upperclassmen member of the Christian Union reached out over email and introduced me to the organization. Throughout orientation week Christian Union hosted events and information sessions on the many ways to get involved in Christian life on campus. Throughout my freshman fall and winter, I stayed active in Christian Union by attending Bible studies, social events, and group worship sessions. At times, college life gets super hectic and it's difficult to prioritize going to events, but each time I do, I really enjoy the community and sense of peace I find.
In addition to my personal faith practices, I've also participated in more academic explorations of Christianity. Dartmouth's religion departments is excellent and classes entitled "Religion and Social Change" and "God and Darwin" have both been great for pushing the bounds of understanding. The Tucker Center is an additional space on campus which aims to be inclusive and supportive of all students' spiritual journeys. They offer moderated discussions, a full-time chaplain, and most recently hosted a virtual MLK Day celebration.
As I mentioned, there are many faiths practiced by Dartmouth community members, so I don't want to generalize my experience. However, I do feel comfortable in saying that however you choose to practice (or not practice) faith on campus, there will be people to accept and support you through that journey.