« All Posts by this Blogger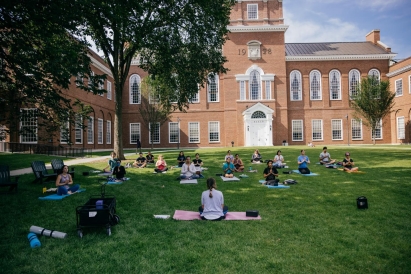 Self-Care: College Edition
I am writing this blog post towards the end of August. As I am reflecting on my summer internship, I want to emphasize the importance of making time for self-care. I am dedicating this blog post to the topic of self-care and the necessity of supporting oneself.
Throughout my first year at the College, I focused on my own self-care throughout the busy terms. By discussing my own perspective of self-care, I hope to give ideas or inspiration to others and emphasize the importance of putting oneself first. 
Personally, I set time aside for myself and have created boundaries to ensure my own personal growth. For example, I love listening to podcasts such as The Cult of Pedagogy Podcast or Code Switch. Both podcasts touch on my own personal interests such as the "sciences" behind education or the acknowledgment of systemic barriers in society today. In regard to creating boundaries, it is so important to define your own limits and know that it is always ok to say "no." Altogether, you are entering a new stage in your life, where you are much more independent and in control of your own life. For me personally, acknowledging this fact has helped me navigate my first year at the College and summer internship.
Furthermore, meditating is such an amazing form of self-care, it has helped me a ton (I use the Calm app, lol)! There are really good resources on the app that have guided me through some stressful times. In addition, reading is another tool in my "self-care kit"; currently I am reading Evicted: Poverty and Profit in the American City. I highly recommend this book—it is a powerful piece of social justice literature that showcases the interplay between poverty and housing. 
I hope you all enjoyed reading about some examples of how I self-care!