« All Posts by this Blogger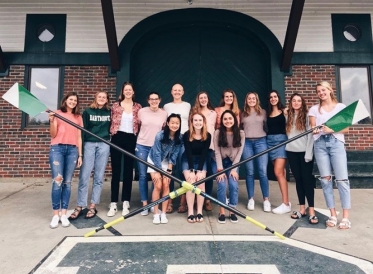 Through the Lens: Varsity Sports
Sports are big at Dartmouth. About 25% of students participate in intercollegiate athletics at the varsity and club level, and 50% in Intramural sports. Additionally, we are a Division I school and are home to some of the best athletes in the country—our football team even won the Ivy League in 2019. This is all great, but sports are more than statistics and trophies. And since I am not a varsity athlete, I brought in a little help…
Introducing: Maddie Grussing! Maddie hails from London, England, and is a first-year student on the women's rowing team. She loves the sport, and gave us some nifty insights into the life of a Dartmouth student-athlete:
What does a rower's schedule look like?
Rowing is a bulk sport, it demands volume. It is certainly time intensive, but I think all varsity sports here at Dartmouth require a big-time commitment. Schedules vary on season. But our Championship season is spring, with a few races in fall and with the beautiful Connecticut frozen solid in winter, we take to the ergs and newly developed moving water indoor tanks to grind out the winter miles. Or in true Dartmouth fashion, we take to the ski routes for Saturday morning Nordic skiing for some vitamin D, coordination work, and cross-training. 
Have you found community through rowing?
This is probably the easiest question. The greatest thing rowing has given me is a community of strong women. Speaking more generally, I think rowing has a unique ability to bring people together because of how in unison you have to be as well as the extreme highs and lows the sport pushes you to. A friend on the heavyweight team conceptualized it in a way that has really stuck with me. A boat has eight people who are all the goalie on a football (soccer to cater to my predominantly American audience) team because you don't know who's doing what. In essence, everyone is trying to mirror the exact same motion to the best of their ability to create one seamless stroke. I have only been with the team physically for 20 weeks of classes and a 2-week training trip, and yet I already feel so much a part of the DWR community/family.  It's surreal to be part of something so much bigger than ourselves. 
What would you say to a high school student interested in varsity sports at Dartmouth?
Do it! If you can, you should. The energy surrounding varsity sports at Dartmouth within the teams, from coaches, from passionate alumni, and from your peers is unparalleled. You can feel this energy with new friends coming down to the dock, glittered posters in hand to cheer on Dartmouth against Yale at the first meet of the year. Or upperclassmen belting the 'We are DWR' chant as the freshmen push off for their class race. 
To learn more about sports at Dartmouth, follow this link.