« All Posts by this Blogger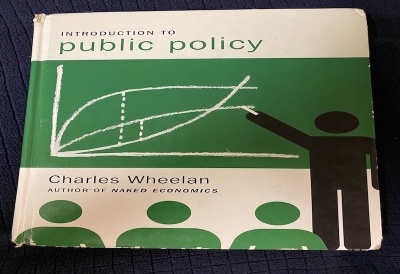 My Most Fun Class
College classes are tough...but there is always room for some fun. 
This term, one of my favorite classes is Introduction to Public Policy (aka PubPol 5). It's super interesting; we talk politics, legislation, and economics–all of which are extremely relevant, especially in the midst of the presidential election. Our professor, Charles Wheelan is hilarious, and I am always looking forward to his lectures.
That being said, this class is tough. We have lots of readings, two group essays, three individual essays, and a midterm–all concentrated in ten short weeks. To learn and do well in PubPol 5, you need to dedicate lots of time to stay on top of the workload and master the content. 
That being said, our professor does understand that the work can be overwhelming at times, and makes sure to let us have some fun. The night of our midterm, he treated the entire class to Boloco (a local burrito restaurant) and booked an auditorium for us to watch a documentary. He ordered over one hundred burritos, and lots of cookies. The movie we watched, Fog of War, was about public policy in the 1980's, and showed me that everything I learned is used by the best of politicians. 
Professor Wheelan has also invited some awesome guest speakers to our lectures. The first, Judd Gregg, is a former senator and governor of New Hampshire, and was one of the writers of the legislation to stabilize the economy during the 2008 financial crisis. The second was John Lynch, another former governor of New Hampshire, who talked to us about the difference between a good politician and a great politician, and shared his ideas today's biggest issues. Like Judd Gregg, Lynch offered great insight into the life of a policymaker.
Lastly, professor Wheelan decided in the middle of the term that we needed to loosen up, and surprised us with trivia day. The prices: books from a recent speaker at Dartmouth, and his own books. The trivia was related to class but again, Wheelan is hilarious, and spun the questions so we'd have a good laugh. 
So, moral of the story, take PubPol 5 if you get the chance, and don't take yourself too seriously! Even in the Ivy League, there's always room for a bit of fun.