« All Posts by this Blogger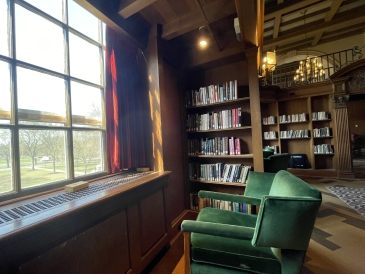 Academics—the Dartmouth Difference
10 weeks, 3 classes, 40 departments and programs, 420 tenured and tenure-track professors—endless possibilities. Here's why I love academics at Dartmouth. 
Dartmouth is defined by its faculty of amazing professors who have extensive background in their field of knowledge. At Dartmouth, professors are world-class leaders who love to teach and impart curiosity, critical-thinking, and their own experiences onto students. Whenever I walk into a classroom or lecture hall, I stand in awe at everything I can learn from these scholars. All of my professors have been incredible and able to create a classroom environment that encourages participation and dialogue. 
This term, I am taking three classes: The Price System (ECON 001) with Professor Diego Ramos-Toro, Cultures of Self Loathing (WRIT 07.38) with Professor Min Young-Godley, and Introduction to International Development (GEOG 8.01) with Professor Coleen Fox. All of my professors are incredibly passionate about their subject matter and make themselves available to students in order for them to succeed. I would say that I am incredibly lucky to only have had amazing professors throughout my time at Dartmouth, but in reality, this is the norm and not the exception. Dartmouth professors really are amazing and really do care about you. After all, Dartmouth is a primarily undergraduate focused institution with lots of opportunities for students to interact with faculty. Whether it be at office hours, during class, or at some other event, being part of a community of academics is really what Dartmouth is all about. 
Dartmouth is a liberal arts college. This means that there are many disciplines you can pursue in many different ways. 40 departments and programs give you breadth of choice as you trek your own path in the woods. With the ability to major, double major, minor, or modify your major, Dartmouth students have the unique opportunities to define themselves as they want to and craft their degree to their liking. 
Dartmouth's terms allow you to be flexible. Apart from some requirements, you get to choose which 3 terms (out of Fall, Winter, Spring and Summer) you want to study. There are so many opportunities to be creative and to experiment with learning. With Dartmouth extensive study abroad opportunities, learning also takes place in different continents around the world. Doing things a little different is exactly how we do things at Dartmouth. Through Dartmouth, learning takes place everywhere, always.