« All Posts by this Blogger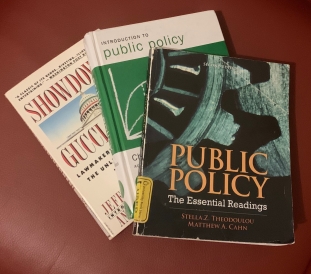 PBPL 5: Introduction to Public Policy
One of the most interesting classes I have taken so far at Dartmouth has been PBPL 5: Introduction to Public Policy, which is taught by Professor Charles Wheelan. Although I didn't know a lot about public policy coming into the class, I finished the course with a greater understanding of how public policy is created and implemented in government. And even more importantly, I realized the influence of public policy on my everyday life.
The main reason why I enjoyed this class was because of Professor Wheelan's teaching style. Whenever I would tell an upperclassman that I was taking Public Policy 5 with Professor Wheelan, the first thing they'd tell me would be about how amazing of a professor he is. After taking the class, I can confidently say he certainly lives up to the hype. Professor Wheelan always related what he taught to current events, which made me appreciate the relevancy of public policy in my life. In addition, he is hilarious. There was not a single day of class where I didn't laugh at one of his (albeit sometimes corny) jokes! 
Alongside being a great lecturer in the classroom, Professor Wheelan was a wonderful person to talk to outside of class. Besides his regularly scheduled office hours (which he held every Monday and Thursday), Professor Wheelan was very accommodating and would meet with students by appointment anytime during the week. Whenever I had a question, whether it be about what we learned in class or about something I read on the news, Professor Wheelan was always available to talk to. 
Another reason why I liked my Public Policy 5 class was because of the numerous guest lecturers who came to speak to us. Some of the guest lecturers included Judd Gregg, who is a former governor and senator from New Hampshire, and Kyle Bailey, the campaign manager for the Committee for Ranked Choice Voting. It was truly inspirational to hear from such accomplished people who work in the field of public policy. 
Overall, Public Policy 5 was an unforgettable class that I'd take again in a heartbeat. My professor was amazing, and I made some great friends in the course as well. Although it was a lot of work, I learned so much about public policy and the role it plays in society. I am definitely looking forward to taking more public policy classes in the future!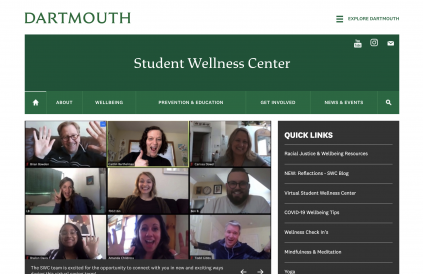 When applying to college, research what the college you are applying to will do to best support you! In this post, I share a few of the numerous resources Dartmouth has provided me with to become a better me.

Dartmouth may be your dream school, and you might be over the moon with gratitude to be staying in a gorgeous autumn-leaf strewn campus beneath a perfect blue sky. But be that as it may, adjusting to college life right now isn't easy.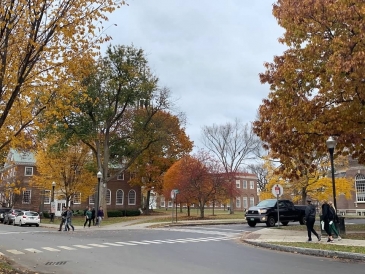 One of the cornerstones of a Dartmouth education is our foreign language requirement!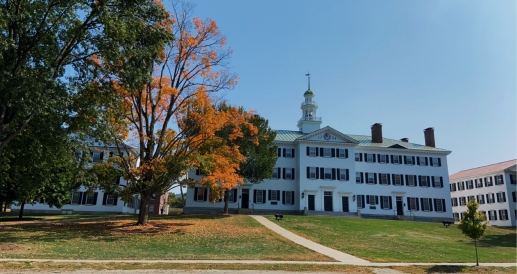 To me, a liberal arts education involves a curriculum that encourages students to study a broad range of disciplines, picking up skills that can benefit them in multiple career paths. Here is my own perspective on Dartmouth's broad curriculum!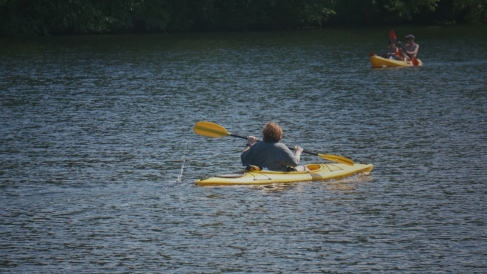 I'm taking this term off-campus, but that doesn't mean that I won't be connected to Dartmouth resources, scenery and—most importantly—people.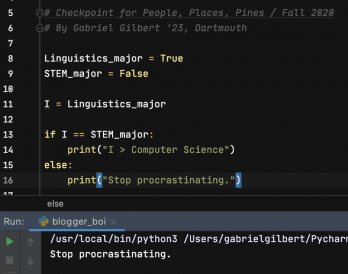 My name is Gabe, and I am not a STEM major. But for Fall 2020, I am a STEM student: I am taking Computer Science 001.

Although I've only just finished my third week of classes, I'm already seeing the value in getting to know my professors early in the quarter. Trust me: professors are real people who want to work with you!
This term, one of my classes is ENGS12: Design Thinking, one of the most popular and well-known classes offered at Dartmouth.
If a professor asks you to read a text outside of class, they are asking you to read it for a reason.