You are here
« All Posts by this Blogger
A Week of Dinners at Dartmouth
What does a freshman student eat for dinner every day of the week at Dartmouth?
For Monday's dinner, I went to FoCo! FoCo stands for Class of 1953 Commons and is the center of all-you-can-eat food. Freshmen are automatically put on the most generous meal plan for their first quarter, which includes 4 meal swipes per day, so you will frequently find fellow friends eating at FoCo. On this particular day, I had some cornbread, a variety of salads from the salad bar, some chili, and for dessert, some yogurt with Butterfingers on top!

On Tuesday, I had catered food from a Thai restaurant in town called Tuk Tuk! The dinner was hosted by the Tucker Center and was an annual event that brings together a panel of students from various faith backgrounds to speak about their experiences and provide a platform for discussion amongst the greater Dartmouth population. We also had gelato from Morano Gelato afterwards, which was a real treat! 

Pizza galore! A lot of student clubs or lectures have food during their meetings. On this particular day, we had glorious pizza from Domino's (one of the only franchise stores in the area, one of the others being CVS). Food is definitely a great motivator to get students to go to meetings, and is a fun perk in addition to going and hearing amazing lectures from Dartmouth faculty.

Thursday, I got dinner with one of my friends at FoCo (the buffet-style food court) before dance practice. I had a little bit of everything and, again, got some yogurt with Butterfinger toppings! The rest of the plate was pretty healthy, so I don't feel too guilty about it.

On Friday, some people from my floor got together to celebrate one of our floormate's birthdays! We went to a restaurant in downtown Hanover called Molly's, and I ordered a Buddha bowl (which was amazing). We had some cake afterwards (not pictured) and watched a couple of movies. I absolutely love spending time with friends on the weekend; eating with friends makes every meal taste better.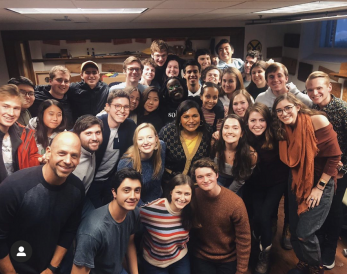 Sorry. I type fast when I'm excited. I wanted to make sure you read this clearly. I MET MINDY KALING!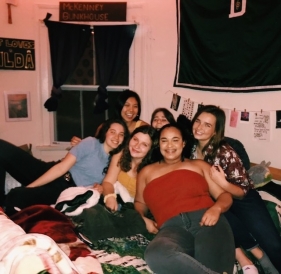 I've found there are a ton of ways to have fun here, even outside of Dartmouth's well-known Greek system. Here are some of my favorite ways to spend a Saturday!

A place that I have wanted to explore for forever is Quechee Gorge in Quechee State Park. For my friend's birthday over the summer, we planned an adventure of a day with brunch, a trip to Quechee, and dinner at her favorite restaurant.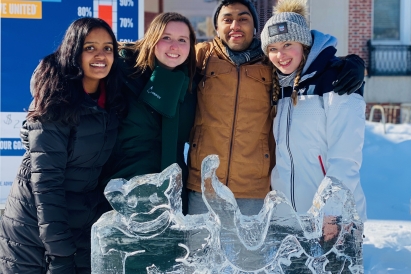 Winter Carnival is a weekend-long event that began in 1911 to admire the beauty of the Upper Valley in the winter and to celebrate the success of Dartmouth's winter sports teams.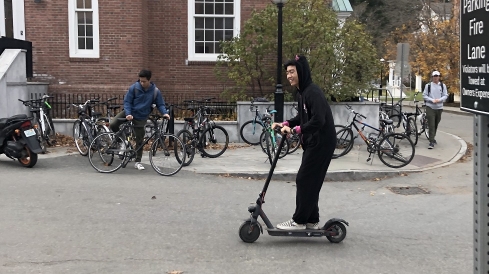 Now, I did my online research before coming here, but even then I am easily overwhelmed by the sheer number of weird, quirky, but undeniably fun traditions Dartmouth has to offer.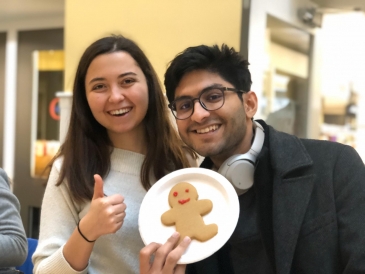 Celebrating your identity and having fun while doing it!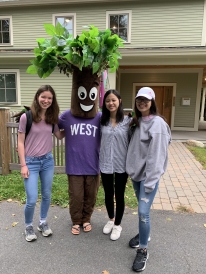 Looking back at my housing selection process, I realized there is very little information available about the LLCs. I wrote this blog post to tell you five reasons why I love the Humanities LLC.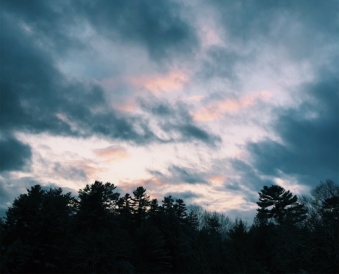 As a southerner, my biggest concern about Dartmouth was how I was going to cope with the cold. Luckily, I have a lot of friends that are also excited to embrace the snow with me, so I wanted to share how we've been enjoying winter term so far!

I've taken to sitting and watching, treating myself to the slowness of green tea and silence of an uninterrupted morning. But that's one of the best things about college—it offers ample moments for reflection.