« All Posts by this Blogger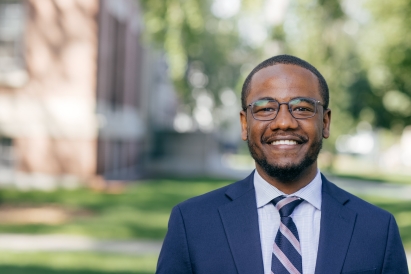 Interview with New Senior Director of Admissions, Gregory Chery
The Dartmouth Admissions office recently welcomed Gregory Chery to their team as Senior Associate Director of Admissions and Director of Access Recruitment. To celebrate this occasion and introduce both Greg and the concept of access recruitment to prospective students, I was given the opportunity to interview Greg for Peoples, Places, and Pines. Access and diversity at Dartmouth is something that I am extremely passionate about, so I thoroughly enjoyed our conversation together and hope that it will help you learn more about the initiative and its place on our campus!
The interview has been edited for both length and clarity.
Hello Greg, thank you so much for speaking with me! To start off, I'd love to hear more about your own personal trajectory and how it led you to the Upper Valley. For example, why did you join the Dartmouth Admissions Office in this department and what's your personal interest in working in access recruitment at Dartmouth?
Yes, great question. I'll make a long story short but I'll take us back a little bit. I was originally born in Haiti, so I spent my first ten years there. I've lived in Philadelphia and Boston—Boston is kind of what I call home.
I went to very low income, underperforming middle and high schools. I got lucky my senior year of high school; I found out about the Posse Scholarship, which is very similar to Questbridge. Posse is targeting underrepresented students in high schools and in the inner city, and it has given them full tuition scholarships to some of the top liberal arts colleges around the country.
So I went to school in small-town Kentucky and lived four years of experience in a predominantly white institution (PWI), which was really eye opening. When I graduated college, I got an opportunity to work in my alma mater at the admissions office. It was a great opportunity for me to be part of the process to help change the demographics at my institution. The more I stayed in admissions, the more I learned and the more I saw the education gap and all the inequalities for students of color, low income students, first gen students, or students from all other underrepresented background, for example whether they're undocumented or international.
That's where it started: from my lived experience coming from an underperforming high school, looking at my college application process, and then of course my lived experience as an immigrant, first gen student at a PWI.
Is there a specific scenario that you remember through your lived experiences that had an impact on you or that you think demonstrates to others the extent of these issues?
I think one of the things that comes to mind is what happens during winter and holiday breaks. I would say wealthy students or middle upper class students would either go home or go to Florida or elsewhere, and there were a lot of us low income students who had nowhere to go because we were too far from home.
At the time, I don't remember thinking consciously, "Wow this is problematic."
But, once I graduated and I started working with those students, I was like "Okay, how can I help?"
Yes, I can imagine how your previous experiences as a student gave focus to your goals post-graduation. At Dartmouth, you now work as the Senior Associate Director of Admissions and Director of Access Recruitment. What do your responsibilities and initiatives look like now?
So the admissions office is broken down into four working groups: we have an access group, a communications group, a visitor relations group, and also a recruitment group. 
My responsibility is to oversee and lead the access team. Some of our major initiatives are programs like Dartmouth Bound and the Indigenous and Native student fly-in. The heart of the access group is to be a voice for all underrepresented students.
We host different workshops during the year that focus on college essays, financial aid, the recruitment process, etc.
I imagine a large part of your job involves working with diversity & inclusivity initiatives. How does the admissions office at Dartmouth define diversity? How do you decide on goals or initiatives?
Great question. One of the first things that comes to mind is geographic diversity, the type of high schools students are coming from, and of course, racial, ethnic, social, and economic diversity. Another piece of diversity that matters to us are our veterans and our native and indigenous students.
And concerning our goals in admission—we get that direction from the college. As an educational institution, we want the best. We want the smartest students, the most diverse students, the most promising students. To me, that's our goal: to recruit and enroll the most promising students, and those students need to come from all over the country, all over the world.
Shifting gears a bit: what do you have to say to people who criticize like D&I initiatives and view admissions like a zero-sum game?
I would say one of the things that I've always said: you can't enroll an excellent class if it's not diverse. For us to define this class as "excellent," you have to represent different voices. It's beneficial for all students if there are different voices in the class, because you need those different voices inside the classroom, your residence hall, your dining hall, your student organizations. The more diverse a campus is, the more complete your education is going to be, and the more you're going to be prepared for the world when you leave Dartmouth.
D&I initiatives are not excluding voices—it's actually doing the opposite and including voices that higher education historically have excluded.
I completely resonate with that. For our last question, what sorts of advice do you have for students who are entering the admissions process down and may already feel disenfranchised by how it works?
The best advice I would say to those students is to know that their story matters. Our admissions decisions, whether they're positive or not, is not a reflection on their story. Admissions does not undermine who you are, your experience, your identities, or your lived experiences.