« All Posts by this Blogger
Staying Busy in These Unprecedented Times
Before coming to Dartmouth, I predicted I would have a lot of free time that may have even resulted in being bored. As someone who has always enjoyed feeling busy, I was pretty worried that I wouldn't have much to do, but I am pleased to announce that I have had a busy schedule on-campus despite the social distancing guidelines—sometimes even too busy! There have been numerous activities hosted to help us feel surrounded by a community and not spend our entire time indoors with nothing to do, and there are also various tasks I did not consider would take up my time. Here's a list of a couple of things that have kept us busy!
No. 1

Being One With Nature

Being so disconnected from nature back home, it feels so strange now being surrounded by nothing but nature. I had not predicted to be as thankful as I am now to be in such a remote location, but the environment has definitely been able to calm me down whenever I get too stressed. Because of the pandemic, I had imagined students would be limited to the outdoor activities; however, the Dartmouth Outing Club (DOC) has done the most to assure that students are able to participate in numerous outdoor activities, such as kayaking, hiking, stargazing, etc. while being safe. During the weekend, I was able to sign-up for a canoeing session and canoe with one of my floormates down the Connecticut River. This experience highlighted how easy it is to be one with nature at no cost!  Not only did I get to learn something new, but it was also a great way for me to take a break from my studies. 

No. 2

Applications, Meetings, and More Applications!

Amidst all of the euphoria with transitioning to college, I forgot how many informational meetings I would have to attend to learn more about clubs on campus. As classes started, organizations on campus also hosted various sessions and applications for interested students. Therefore, most evenings I could be found glued to my computer hopping in and out of Zoom calls to find the clubs that would best fit me. There are also more opportunities to be involved on campus beside joining clubs! I was able to hear about Dartmouth's Center for Social Impact and their first-year program, Foundations, which focuses on helping first-year students become leaders and offers them the opportunity to learn about non-profits while working closely with them. For some activities, I had to complete surveys and forms; however, there were also other opportunities that required me to do some more research and complete applications. 

No. 3

Relaxing With A Movie Night

Although a lot has changed in Dartmouth's community, at the same time, it feels like not much has changed. My college research last year had always described Dartmouth as displaying a "tight-knit community," and although it looks a bit different this year, I can still see the resemblance. The college has planned and hosted several forms of engagement to offer students the ability to socialize with classmates and get to meet people. This week, the UGAs (undergraduate advisors, similar to RAs) hosted a movie night with free popcorn (!!) to enjoy the end of the week and regain energy for the third week of school. Some other events hosted by the Programming Board and the college have been Bingo Night with amazing prizes (TV's, AirPods, lamps, etc.), yoga sessions, and scavenger hunts! These simple events have really made me feel included in the student body and have demonstrated to me that the college and upperclassmen are still doing what they can to make our transition to college fun and exciting.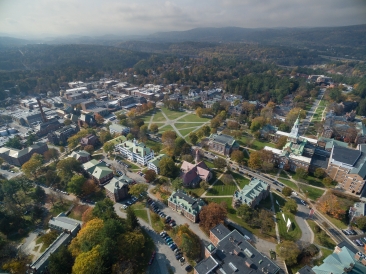 The Dartmouth Center for Social Impact (DCSI) is a hub for students seeking community service opportunities.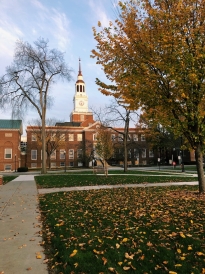 Looking back on my college search process, I remember really wanting to meet students to try and get a sense of the school's culture. To help you guys out, I decided to interview a couple '24s to help you guys get a sense of Dartmouth!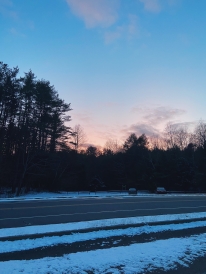 No freshman year is perfect, and I'm reflecting on a few learned lessons that I wish I knew before attending Dartmouth.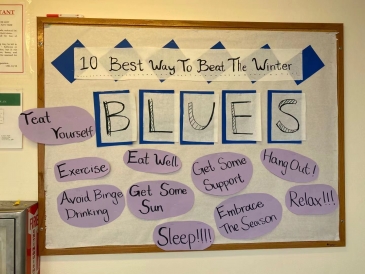 I was attracted by the opportunity to engage with first-year residents and shape their Dartmouth experiences, in addition to working with other UGAs and staff who shared my interest in helping others.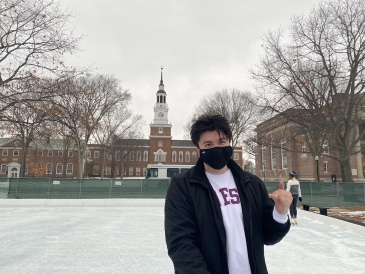 After almost a year off-campus, I came back to campus committed to the winter experience and I am simply loving it.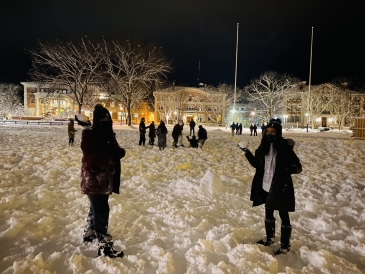 Dartmouth's tradition of a campus-wide midnight snowball fight lives on!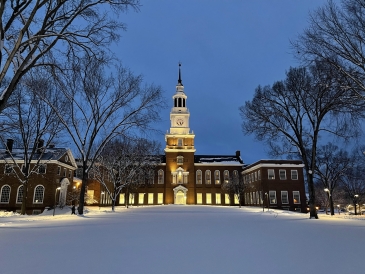 We so very wish you could step onto Dartmouth's campus yourself to witness the beauty of our winters live, but COVID-19 has made visiting campuses extremely difficult. I would love to share some of my favorite photos from this past snowy week!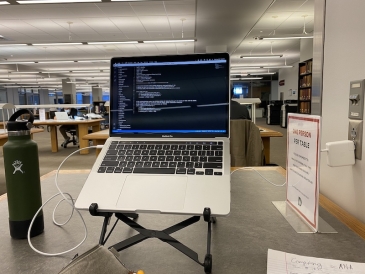 With lots of things (understandably) still closed on campus, it's nice to know that study spaces are beginning to open up again in a safe and responsible way.

From classes to extracurriculars to book club, there are endless communities to join at Dartmouth!