« All Posts by this Blogger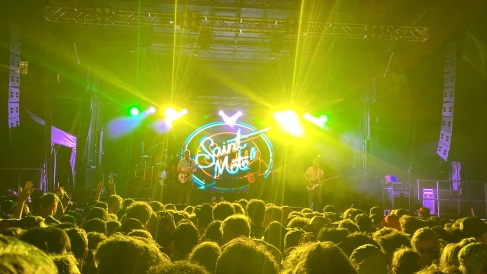 Saint Motel Meets Hanover: Green Key 2022!
Green Key: the fabled event of a spring term on Dartmouth's campus. This term, the classes of 2023, 2024, and 2025 all collectively got to enjoy our very first Green Key since the class of 2022's freshman Green Key in 2019. For me, this meant a celebratory weekend packed with live music, free food, and darty after darty (depending on who you ask, either a combination of daytime + party or Dartmouth + party). 
What exactly is Green Key? The origins go back a long while—maybe as far back as 1899—and the festivities themselves have changed substantially over time. Now, Green Key looks like a few days packed with fun events hosted by organizations across campus, with the highlight definitely being Green Key @ Collis—an annual program hosted by the Collis Center for Student Involvement that brings notable musicians to campus to usher in the spring season. This year, the College brought artists Doechii, KYLE, and Saint Motel to Hanover for a Friday night concert that definitely had what felt like the entirety of campus clustered on Tuck Drive. 
Now, I've been a Saint Motel fan since circa 2013, so even if you might not recognize them, know that I was beyond hype. I literally dove into the archives of my different email addresses, found my middle school Spotify account, and rediscovered my ancient indie rock playlists—all packed with classic Saint Motel. And while I may have been the sole person screaming the lyrics to Sweet Talk and For Elise when the tracks came on, I was on cloud nine as my younger self lived vicariously through me in those moments.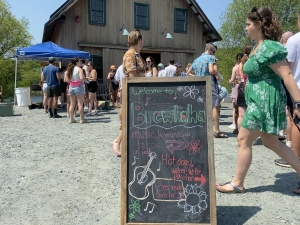 On Saturday, I went to BrewHaHa. Hosted by and on the Dartmouth Organic Form (or O-Farm, for short), the event featured live music by folksy folk, homemade kombucha, craft brews, delicious tacos and hot dogs, and plenty of vibes. Shuttles ran continuously to the event from just in front of the Hopkins Center, so getting there was easy, and leaving was hard. It was such a pleasant time and Saturday's perfectly peaceful counterpart to Friday's shenanigans.
All in all, my first Green Key was amazing. I'm already reliving the vibes as I choose the photos for this post, and am ridiculously encouraged to take up the guitar again after a long hiatus. I genuinely had no clue of what to expect but was pleasantly surprised all-around by the sheer amount of energy on the part of both those involved in preparing for Green Key and those whose infectious enthusiasm ensured we reached for the upper maxima of campus-wide hype. Can safely say that the long, long wait was well worth it. Same time next year?