« All Posts by this Blogger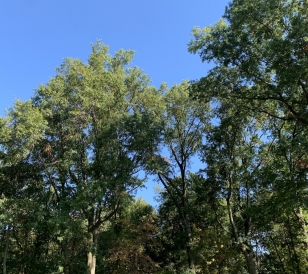 Reflecting on Freshman Summer
Hello friends, I'm back! Like last spring, I'm currently situated in my hometown, Edison, NJ. (You can see from my picture above that the leaves are still green. It's also strangely warm here, 70 degrees today.) Although I'd love to tell you about my online classes, I wanted to use this blog as a summer update. 
I chose to take freshman summer off, which means that I didn't take classes. This was a difficult decision to make; I couldn't travel due to coronavirus concerns, and many internships were canceled. Many Dartmouth upperclassmen encouraged me to email Dartmouth alums for summer opportunities. I reached out to Mr. Alfred Forbes '82. He responded to my inquiry within 10 minutes and offered me an internship. 
Mr. Forbes runs a consulting firm that advises Black-led nonprofit agencies. I didn't know anything about consulting, so I was prepared to sit back and watch. At first, I sat in on Zoom meetings and took notes. However, Mr. Forbes quickly entrusted me with greater responsibility, training me to take on more specialized tasks such as writing grants. I worked on three grants, one of which requested over $200,000 in funding. As an intern, I wasn't just conducting research. Mr. Forbes had taught me so well, I was writing portions of the grant myself. In fact, one of his clients praised a section I wrote, insisting it was the strongest part of the grant!
I also handled Forbes Consulting's social media consultations, working one-on-one to build company engagement and follower count. In addition, I learned how to create flowcharts and logic models on Microsoft Visio. I am immensely grateful to Mr. Forbes's generosity and the sheer power of Dartmouth's alumni network.  
Although Mr. Forbes was keeping me busy, I was tired of being cooped up at home. I returned to my high school job, lifeguarding at the YMCA. To keep my family safe, I worked the 5:45am shift at the outdoor door. It was rough, but it was a great excuse to take naps and sleep in on weekends. Otherwise, it was a summer like any other—watching Youtube and Korean variety shows, attempting (and failing) to go for jogs, and hanging out with friends (social distancing measures intact). 
Time passed in a blur, and suddenly it's the fourth week of classes. I can't wait to let you guys know what I'm up to. I've changed so much since the spring quarter, and I'm excited to bring you along my journey of self-growth and discovery at Dartmouth.