« All Posts by this Blogger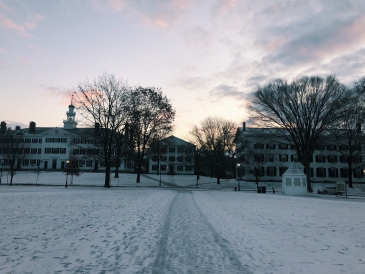 Why Dartmouth
Watching Dartmouth's class of 2024 form as people commit has been beyond exciting – and it's encouraged me to go revisit why I picked Dartmouth in the first place. Here is what I wrote for my "Why Dartmouth" essay back as a high school senior. 
"I dream of leading a new generation of policy makers in revolutionary approaches to international development. Sharing research with Professor Sandhana Hall, visiting the course Introduction to International Development, and touring the Center for Social Impact made it clear that attending Dartmouth is critical for my future. The Dickey Center's International Studies minor and unique Human Development Research Fellows Program are intensive, yet the flexible D-Plan will allow me to simultaneously major in English. I hope to study Hanover's rich literary history, to delve into British prose through foreign exchange, and to explore the poetic nuances of Hamilton."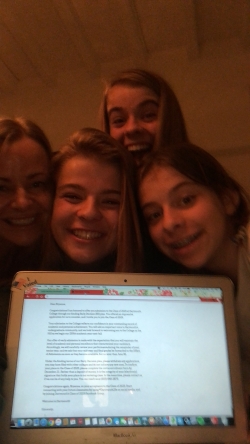 It's crazy to think about how many of these things I've been able to do so far –  and I'm only two and a half terms in. 
As mentioned in my "Why Dartmouth" essay, I'm fascinated by the process of policy making – something that Dartmouth's Rockefeller Center specializes in. I visited Sandhana Hall, the professor with whom I shared research when I was a prospective student, again when Rocky hosted their open house during orientation week. She encouraged me to take Introduction to Public Policy (PBPL 5) with Professor Charles Wheelan in the winter, which I did! PBPL 5 was an incredible class, and I learned all about the ins and outs of policy making from Professor Wheelan, who is incredible, as well as the number of renowned guest speakers that were invited to our class, including a former governor of New Hampshire. Alongside taking classes this spring, I'm remotely interning with potential Democratic candidate Andru Volinskys' campaign for New Hampshire governor. I found the internship through Rocky, which provides extensive internship opportunities and funding for all Dartmouth students. So far, I've done research on gun restrictions, pharmaceutical price gauging, and polling numbers. In PBPL 5 we were taught how to write effective and eloquent policy memos, a skill I've come to use every day in my internship.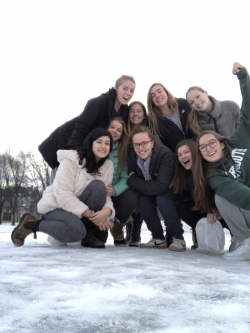 One of the primary reasons I decided to come to Dartmouth was because of its unique international outreach – the Dickey Center for International Understanding facilitates many of the international opportunities students have. Dan Benjamin, the current director of the Dickey Center, has organized one of my interdisciplinary classes this term, Epidemics in History. Crosslisted with the history and government departments at Dartmouth, the course is composed of a series of lectures regarding different epidemics throughout history. We've learned about literature during the AIDS crisis from an English professor, motifs in art during the Plague of Justinian from an art history professor, and the national security implications of Ebola from a Rand Beers, a Dartmouth alum who served as the former Deputy Assistant to President Obama for Homeland Security. I'm excited to take full advantage of the Dickey Center's programs throughout my next three years. While I'm leaning towards a minor in public policy right now, I'm curious to see what courses the Dickey Center's international studies faculty will offer during the terms to come -- to take full advantage of the center that pulled me towards Dartmouth in the first place.
In high school, service was an exceptionally important part of my experience, so when I was picking a college, I wanted to find one that prioritized both local engagement and international development initiatives. With the Center for Social Impact, Dartmouth checked both of those boxes. Many of my friends are engaged in the Center for Social Impact's local volunteerism programs like DREAM, Outdoor Leadership Experience (OLE), and SIBS – youth mentoring programs for students to partner with schools and community organizations to create holistic approaches to youth growth, development, and learning. My friend Abigail Roberts '23 from Miami, a volunteer with DREAM, reflected on her experience mentoring local youth, saying "you really get to see the impact that coming to DREAM every Friday has on the kids, as you get to watch them grow from week to week and even term to term." Another friend of mine, Arabella McGowan '23 of Memphis, commented on the Foundations of Social Impact Fellowship program that she's engaged in. "In Foundations, we spend the winter term on a "social impact tour" of campus interacting with different parts of Dartmouth like Rauner Library, the Hood, and the Tiltfactor game lab to see how they each play a role in social impact. During the spring term, we work on a consulting project for a local nonprofit. It's been rewarding to see Dartmouth through this lens and to gain exposure to the Upper Valley through our project."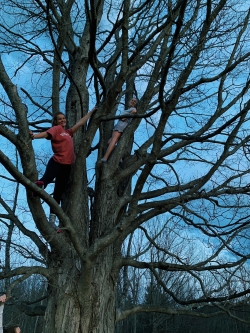 Coming into freshman year, I was told that I would most definitely change my idea of a major multiple times before deciding on the final manifestation. I definitely came to Dartmouth thinking that I was going to double major in English and Government, but right now I'm leaning towards a double major in History and Government instead. That being said, my love for English has by no means faltered, and I'm currently taking English 34: Modern American Drama, the course that studies Hamilton that I mentioned in my application essay. Thus far, we've studied the works of Arthur Miller and Eugene O'Neil, analyzing plays like Death of a Salesman, Our Town, and A Long Day's Journey into Night. A passion for English, rooted in my late grandma Jane's love of literature, has me excited to explore the other incredible English courses that Dartmouth offers, a department that drew me to the College in the first place. 
It's crazy to look back on my essay and see how I looked at Dartmouth as a prospective student. So few of the things that drew me to the College are included in my writing. 100 words is by no means enough to describe why Dartmouth was the right fit for me. 
The community on this campus is unmatched, and although I miss it immensely as we engage in remote learning, Dartmouth students have the unique ability to sustain connections regardless of where we are in the world. Dartmouth's location in Hanover, New Hampshire, the quintessential New England town, was another major pull. As I applied to Dartmouth, I knew that if I were admitted, I wanted to visit the Ski Way, get brunch at Lou's, and picnic on the Green – all things I've done a multitude of times over the past two terms. The rich extracurricular opportunities that Dartmouth offers is yet another thing that pulled me to apply. Everyone here is so engaged. I was so excited to see the range of activities at the student involvement fair, and it amazes me every day to see the sheer range of things Dartmouth students are involved in. My friend Sophia Silimurski '23 is an oboist with the Dartmouth wind ensemble but also a member of the Triathlon team who runs half marathons on weekends. Another friend of mine, Lucy Handy '23 from Providence, rows 26 hours a week with the varsity crew team but is also heavily engaged with the fine arts department, spending any time she's not in the boathouse working on her latest creation. The talent on this campus is absurd.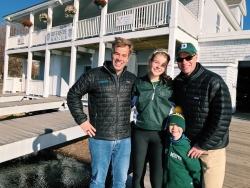 There are so many reasons "Why Dartmouth." Looking back, my essay only touches the tip of the iceberg. I am so incredibly grateful to see my dreams of what my college experience could be come to fruition over these past two terms and am beyond excited for what is to come. 24's, 25's, 26's, everyone's "Why Dartmouth" is different – and that is what makes this college the incredible patchwork that it is.