« All Posts by this Blogger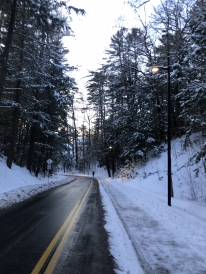 What To Do in the Middle of Nowhere
One question that prospective students tend to ask is: "What exactly is there to do in a small New Hampshire town?" And it's a fair question! When weighing city colleges with rural ones, the lights and glam of urban areas can certainly be a pull. But I'm here to tell you: have no fear! Dartmouth is always buzzing with activity. I've never found myself at a loss for things to do in the beautiful town of Hanover that we get to call home. Being only two hours away from Boston makes it exceptionally easy to head down to the city for a day trip, but each time that I left campus over the past two terms, I found myself missing Dartmouth more than anything. The FOMO was intense. 
I'm here to share some of my favorite things to do on campus. From exploring the outdoors, to brunching with friends, to engaging with art, Dartmouth has it all. '24s, get excited! There is so much waiting for you here. 
Take a hike.
Hanover is situated in the beautiful Upper Valley, meaning that there are hills to climb everywhere. The White Mountains are also about an hour's drive away, so if intense hiking is more your thing, we've got you covered as well. One of the most iconic short hikes is up Gile Mountain, which is around a 20-minute drive from campus. Most people go around peak foliage, and from the top of the iconic fire tower (which is sung about in Noah Kahan's "Carlo's Song"), you can see the most incredible spread of colors. Another great super short hike is up Balch Hill, which is within walking distance from campus. On one of the last days of winter term, my friends and I set up camp on top in order to watch the sunset over the Upper Valley. Over our little picnic, we could see Baker-Berry tower peeking out from the trees. It was a wonderful way to say goodbye to our new home. 
    
The Dartmouth Outing Club (DOC), which is the largest student club on campus, also offers an extensive number of hiking trips each term. The White Mountains are virtually in our backyard—from climbing Mount Washington to Mount Moosilauke to Franconia Ridge, the options for exploration are limitless. In the winter, the DOC offers snow-hikes, providing students with the spikes needed to hike a mountain in subzero temperatures. 
Eat.
Hanover has some epic local restaurants, and although Dartmouth dining is fantastic, sometimes it is fun to break out and go support local businesses. Dirt Cowboy Cafe is my favorite place to get coffee and baked goods in town—they are super fast and well priced. It's also fun to meet friends for a quick snack with the smell of roasting beans wafting around you. The most iconic brunch location is, without a doubt, Lou's. Your classic college-town diner, Lou's has everything from the "Big Green Breakfast" to an epic selection of sandwiches. Their team is legendary, especially Becky, who has been working at Lou's for ages and remembers the names of her multitudes of loyal customers. Hanover also has its epic share of Asian food, which, as a student from Singapore, was exceptionally important to me. Sushiya has primarily Japanese and Korean food, while Han Fusion serves up some mean Chinese fare. Although it is no Din Tai Fung, Han Fusion's xiao long bao provides a little taste of home. It is always so fun to go with a ton of friends and fill up a booth at the end of a long week, sharing stories and laughs. Molly's is another student classic, and when parents visit, it's a go-to. Their nachos are quite literally to die for while their mac 'n cheese is ranked as the best in New Hampshire. Certainly worth a visit. 
Take advantage of the Dartmouth Programming Board.
The Programming Board always seems to bring a little bit of spice to life at Dartmouth. At the beginning of fall term, they brought COIN up to the Upper Valley for our "Fallapalooza" concert. They also set up a bouncy castle outside of Collis, which was a uniquely Dartmouth addition to the evening. Fun, spontaneous things like this are quintessentially Dartmouth. One week they brought a petting zoo up to campus. Another they brought Lou's hot chocolate and smores out front of Collis for a "Sweater Weather Fest." We've had a roller skating rink set up inside of Collis, a massive silent disco, trivia nights, and a series of coffee house concerts. Not to mention the programming board's organization of "Green Key," the annual weekend of concerts in May that alumni and friends of students all crowd to the Upper Valley to enjoy. These programs spice up the Dartmouth experience...make the most of them!
Engage with the arts. 
The Hopkins Center (HOP) is Dartmouth's own hub of the arts for students and visiting performers. Each year they bring in plays, dance groups, film festivals, orchestras, and more, while simultaneously organizing student performance groups like the Dartmouth Wind Ensemble, Dartmouth Symphony Orchestra, and the Dartmouth Dance Ensemble. In January, the Martha Graham Dance Company put on a series of performances and master classes for Dartmouth students and the community. The Telluride Film Festival made an appearance on campus, as did Mountain Film, providing screenings for students. FLIP Fabrique, a circus company organized a series of performances on campus. At the HOP, there is always something artistic going on—be it during the week or on the weekends, one is never deprived of the kind of art culture that would happen in any major city. 
Jump in the river, paddle down the Connecticut, go for a skate, or hit the slopes. 
During warm weather, you'll find Dartmouth students sunbathing on the green after a jump in the Connecticut River. Students trek down to the Ledyard Canoe hut when it gets hot in Hanover and swim in the beautifully chilled waters of the Connecticut between classes, sometimes taking out a canoe for a quick paddle or getting in a tube and simply floating. When it gets cold, Occom Pond opens up for skating -- you can rent gear at the DOC house and head out on the ice to pick up a game of hockey with your friends. Of course, Dartmouth also has its own ski hill, the Ski Way. A bus runs from outside of Rauner library every hour, and students can rent skis for the day at the base camp, which also has a cafeteria where you can get a snack between runs. If outdoor exercise isn't quite your thing, the Alumni Gym has an incredible series of facilities, including an indoor track, a cycle studio, a pool, dance studios, and more. 
Take a day trip.
If you want to head down to Boston or NYC, the Dartmouth Coach runs busses to both major cities every day. The ride to Boston is about two hours, and the Coach can drop you off downtown or at the airport. The bus to NYC is about five hours. Sometimes people head out to visit high school friends, to go shopping, or to see a concert. During Fall term, I took the Coach down to Boston one weekend to see Noah Kahan perform live in concert and visit a high school friend at Harvard. I left Hanover at noon on Saturday, stayed the night at Harvard, and then took the Coach up in order to be back at Dartmouth by 10 am for my dance rehearsal.