« All Posts by this Blogger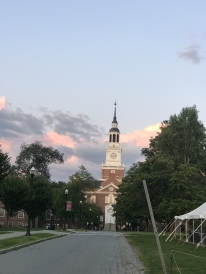 Two Course Summer School at Dartmouth
When I explained to the people back home that I was going back to college after spring term, they were a little confused. Why was I going back and taking another academic term? What was it going to be like?
Well, it is essentially just like any other term: I have classes; I study in the library; I hang out with my friends. The two main differences are that the weather is much hotter, and there are fewer people around campus, other than prospective students. It provides a unique environment for learning and experiencing college.
People often use this time to take a two-course term, which allows for greater enjoyment of what the summer has to offer. For example, I am going this route. I am taking a History class called "Plantations and Slavery in the Americas" and an English class called "Vox Clamantis: Wilderness in 19th Century American Literature." By taking only these two courses, I am able to pursue research. One of the cool things here is that research isn't simply for STEM majors. I don't have to know how to use an MRI machine for my research(though my housemate does that for his research!) My research surrounds Samson Occom and the religious movements he was a part of, as well as his interactions with people such as George Whitefield, Eleazar Wheelock, and Phillis Wheatley. By not working on a third class, I can focus more on my research. And it has been really rewarding. I love walking around the library finding sources and learning more about Occom and the world he was a part of. I plan to continue my work over the fall term, while I study abroad in London.
Also with only taking two courses, I can spend more time hanging out with friends. For example, during the 4th of July weekend, I was able to go with some friends to Vermont and see some fireworks go off, as well as do an impromptu swim in the Connecticut River. It was really fun!
Honestly, my advice for incoming students is to only take two courses during their sophomore summers. It allows for more flexibility and less stress!