« All Posts by this Blogger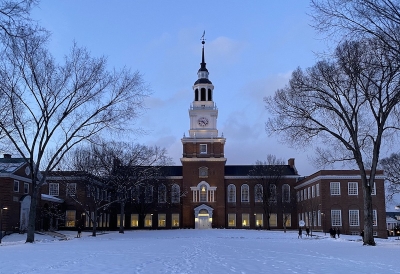 Winter is Coming
November is around the corner; the leaves are falling, the temperature dropping. That can only mean one thing: winter is coming.
Before coming to Hanover, I had never experienced a true winter. I grew up in Central America where summer is year-round, and then moved to Maryland where the climate's not so different. There it snows just a few times each year; and because we're not used to it, as little as one inch would get us a snow day.
Things are a little different in New England. Temperatures begin to drop in late October and most years we get snow before Thanksgiving. On the first snow, every Dartmouth student receives an email from Dr. Seuss announcing that, at midnight, all should meet on the Green for a campus-wide snowball fight. The first snow usually lines up perfectly with fall term finals—it's an awesome study break. 
Full winter rolls around during winterim (aka our holiday break). There are usually a few heavy snows in December; and because the temperature hovers around a nice 30ºF, once the snow arrives, it's there to stay. 
So, what's there to do in winter? Though it's cold, the best activities are found outside. If you are into ice skating, Occom Pond is the spot. It freezes early on and is maintained by the College, so there's always free skate rentals, and lessons for beginners. Right across the street from Occom is the frisbee golf course. Like everything else, its hills are fully covered in snow, making them perfect for sledding. 
Lastly, the Dartmouth Skiway is just a (free, short) bus ride away. As with ice skating, there are beginner classes for those new to skiing or snowboarding—and, you can get all the equipment you need through the Dartmouth Outing Club at very reasonable prices.
Winter at Dartmouth is an awesome, unique experience. But be aware, it's cold!