« All Posts by this Blogger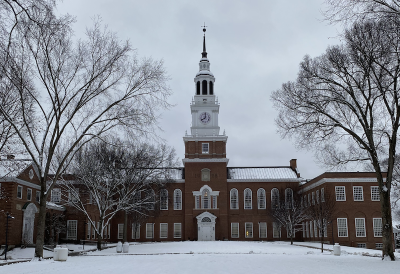 Why Dartmouth: Senior Year Edition
With graduation around the corner, I've been thinking a lot about my time in college and how much I've learned about Dartmouth since I set foot on campus all those years ago. As a high school senior, I knew what I wanted out of my college experience and, after lots of research, realized that Dartmouth would be a great fit for me. So, without further ado, here are some reasons for why I chose the Big Green, and what I've learned since.
Academics
One of the reasons I chose Dartmouth is its liberal arts curriculum. Exploring different interests is actually a requirement — to graduate, students have to take classes in a variety of departments and cultural areas. Most students complete these requirements early on in their time at Dartmouth, since it's a good way to figure out your interests. When I started college, I thought I'd major in Engineering. However, I soon realized that this major was not a good fit for me, and decided to try out other subjects. After changing my mind more times than I can count, I settled on Economics with a minor in the Digital Arts. 
Social Life
Coming into Dartmouth, I was not very familiar with Greek life. So, I was surprised to find out that approximately 80% of eligible students are part of it. Still, Greek life was not a large part of my social life until sophomore year, since this is the earliest that one is allowed to rush. In my experience, I found that although rushing is fun, it is not the only way to find community on campus. I met many of my closest friends when I was unaffiliated during my freshman year — mostly through First-Year Trips, First-Year Summer Enrichment Program (FYSEP), and class. 
However, Greek life has had a positive impact on my college life. Rushing allowed me to make friends that I would not have met otherwise, and it's been really fun! I lived in my Greek house my sophomore summer, and made awesome memories with my fraternity brothers that I'll always look back on. I came to Dartmouth because of its tight-knit community, and found that Greek life plays a significant role in bringing students together.
The Upper Valley
Lastly, one of the reasons I came to Dartmouth is the scenery. Each season has something unique to offer, and there are plenty of outdoor activities to fill in any free time. Hiking, rock climbing, and mountain biking are popular activities in the warmer months. And when the snow comes, the Dartmouth Skiway is just a bus ride away. As a city person, living so close to nature these past few years has opened my eyes to new experiences and hobbies that I may not have discovered otherwise.