« All Posts by this Blogger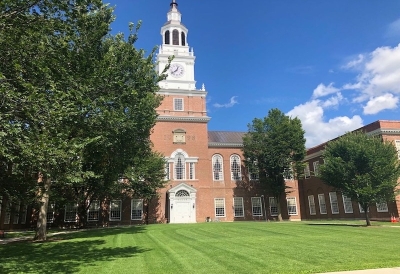 Why Dartmouth — Senior Spring Edition
As a high school student, I remember feeling overwhelmed as I began to look at potential colleges and universities. There's so much to think about. Do you want a city or a rural town? Big or small? What academic programs are you interested in? The list goes on and on… With these things in mind, I eventually figured out that Dartmouth was right for me. Something that helped me make that decision was hearing other students' experiences. So, as I near the end of my senior year, I'd like to share some of the highlights and thoughts of my own time at Dartmouth. If you're currently exploring your college options, I hope this helps!
It is a Small College
Referring to Dartmouth, Daniel Webster once said, "it is a small college, and yet there are those who love it." More than one hundred years later, his words remain true. The class of 2023 has about 1,200 students coming from all walks of life. This means smaller class sizes, research opportunities for undergraduates, and easier access to resources. Plus, because the campus itself is relatively small, I run into my friends randomly all the time! In my experience, the size of the college helped me build strong friendships over the past four years, and find a sense of community.
Greek Life
Rushing a frat was not something I thought much about back in high school. Now, I am part of both a fraternity and a gender-inclusive Greek house. Greek life has, therefore, been significant to my college experience — I met a lot of my friends through it, and the houses have become my go-to social spaces. Around 80% of eligible Dartmouth students are affiliated. Therefore, there are many houses, each with a different social scene and atmosphere. It's definitely not for everyone, and there are social spaces outside of Greek life. However, I think every new Dartmouth student should keep an open mind and give it a shot!
The People
The best part of my college experience were my friends. I met my best ones in the most random places (first-year orientation, Greek life, studying abroad, etc.). Had it not been for Dartmouth, we would never have met, and now I couldn't imagine my life without them. 
These are the highlights of my college experience. Dartmouth treated me well and gave me memories to last a lifetime. It gave me all the tools I needed to prepare for the workforce, and allowed me the opportunity to become the first person in my family to graduate college, despite my ability to afford it. It is truly a special place.