« All Posts by this Blogger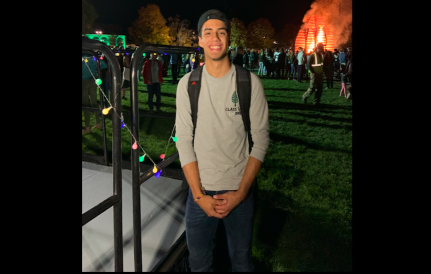 Through the Lens: Comedy
This week, as part of the Through the Lens series, I interviewed Daniel Cespedes '23, a first-year student from Chicago, Illinois. He is a member of the Jack-o-lantern aka the Jack-o—a satirical newspaper on campus—and performs regularly at open-mic night through the Dartmouth Comedy Network. Daniel has some awesome inside about Dartmouth's comedy scene, and has a few tips for those that may be interested.
____________________________________________________________________________________________________________________________
What was your experience with comedy before Dartmouth?
I have always been a fan of stand-up comedy since discovering Gabriel Iglesias and Kevin Hart when I was about 12—but it wasn't until my uncle introduced me to Demetri Martin at the very beginning of my freshman year that I fell head over heels for stand-up. I didn't actually start performing stand up until September of my senior year. I think by the time I graduated I had done about 30 open mics, give or take. 
How has performing stand-up and writing for the Jack-o helped you find community?
Because most of the open mics I've done in my life happened in Chicago clubs, I honestly never found a solid community, though I did get to build nice relationships with a handful of people. Once I started writing for the Jack-o, though, is when I feel I really started to find a comedy community. I think that has mostly to do with, not to be basic, but with the vibes in the meetings. Everyone is so cool and so many people there are comedy nerds like me, so meetings are definitely something I always look forward to.   
What would you say to anyone interested in pursuing comedy in college?
Whoever you are, no matter how funny you are, at some point your joke is going to bomb. And that's OKAY. You gotta go for it. Back home if I bombed, it'd be at a restaurant in front of people I'd never have to see again, so it wasn't too bad. On campus, if you bomb, you see these people every day. It's scary, but that's part of the process. I was scared to try stand up on campus, and I had zero intentions of joining the Jack-o, but several of my friends who knew I was into comedy convinced me to give it a shot—and I'm super grateful they did. Learning to tell jokes to friends and peers and learning to cope with a joke bombing around people I see every day has been fundamental in me becoming okay falling shy of success, and it has helped me become more confident on campus overall. I don't know a single comic on campus whose jokes have had a 100% success rate (if they did, they wouldn't be telling jokes in Collis). College crowds can definitely be tough, but I feel like we've got a good sense of humor in the woods, so take some risks! 
P.S. I got this advice from Demetri Martin himself at a meet and greet: every joke idea you get, WRITE IT DOWN! I promise you won't regret it.