« All Posts by this Blogger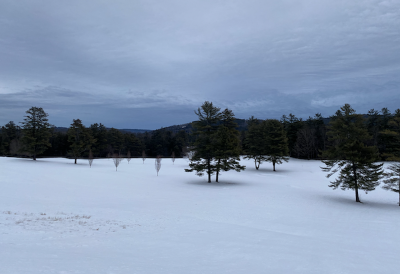 Thoughts on Winter Term
It feels like it was just days ago that I came to campus to start off my second winter term in Hanover. Now we are entering the last week of quarter, and I'm already preparing for finals.
This term, as you may have heard, has been like no other. Dartmouth is housing only about half of the student body, and has implemented many restrictions in order to protect the health of the community—students and Upper Valley residents—amidst the COVID-19 pandemic. Masks, social distancing, and Zoom classes are part of daily life. COVID-19 tests and temperature checks have become as routine as brushing your teeth or combing your hair. This is the new normal.
But despite these restrictions—despite the inconsistent rhythm of life caused by a historic pandemic—Dartmouth's campus is lively, and we are pushing forward. On any given day, you can find the ice-skating rinks on the Green full of socially distanced students, both first timers and veterans; the hills of the golf course busy with sledders; and the trails occupied by runners on study breaks. In truth, the new normal is not "normal," but we are making the best of it, and are lucky to have the opportunity to continue our college experience, even if in chunks. 
I came to Hanover this winter because I wanted to see my friends again and make memories while I can. In all honesty, there have been some difficult days, but I feel that coming to campus was more than worth it.
Time flies. Not only am I two terms into the current academic year, but I am also two years through my college experience. This term has been a valuable part of that experience, and I am glad I was able to spend it at Dartmouth.
I will spend this spring off campus, and will return to Hanover in the summer. And right now, I am going to hop off the blog and go back to studying—it's finals season!